Banned From Faceb--k
Hot content that was banned from a certain, well known site is offered here. Send up your own, meet other members and enjoy the amateur pics and vids.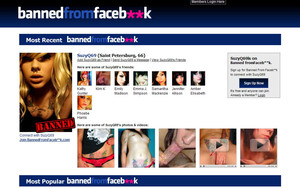 This site tells us that it has a large collection of images and videos all of which were banned from a certain social networking site. Banned From Faceb--k shows you, on the tour, all kinds of amateur girls doing all kinds of sexy things; things too sexy for the real site. Weíre also told that you can get interactive, send in your own pics and videos, meet other members, comment and connect when you join this membersí area.
free / trial (renewing at $39.42/month )
Attention: this site has been closed