Camsters.com
Should you decide to go on a bit more personal venture with girls that enjoy spending quality time with you, this might be the site to do that.
Complete
review published on 12.02.2010
[v]

Intro promises

(3.5)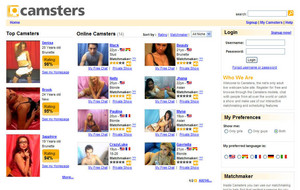 Camsters.com promises you're going to find the person on their site that will make your desires bloom into reality. A lot of information is offered through the help section that explains how it all works. You can stay public and chat, be a voyeur, or of course go private. The charges seem to be a bit high, and instead of as most cam sites do, with the model setting the charge, the site has set amounts
[v]

Content Amount

(3.5)
Last updated on January 08, 2012.
Web Cams:
4448 models, online at a time: 61
Frame Rate: 15 fps
Options:
Sound, Text Chat, Broadcast Shows
[v]
Prices
Last updated on December 11, 2013.
$0.99 semi-private 1-on-1 chat / per min
$1.49 featured shows / per min
$5.99 private 1-on-1 chat / per min
[v]

Impression

(3)
Well, there's a lot to report that I've already learned about Camsters.com, so I guess we should get right to it. Before even applying username and password I spent quite some time in their help section, trying to make heads and tails of things. They say in one part that these are every day walk of life folks, just like yourself that enjoy being on the cam and making your dreams come true, and then in another part they discuss pornstar exhibitors, not just standard models. The pricing is also a bit confusing, there are the minute by minute rates, for example, standard models, $1.49-$2.99 and pornstars, $3.99-5.99.

When I clicked on the sign up link, to go through a mock admission, I had to supple a username and email address, they do send a confirmation to that supplied address, or, you can load your account with money from your credit card, check, etc. and go right into a private session with a guy or girl. Just to make you scratch your head a bit more, through the help section they talk of having three types of membership offerings, the regular, which is a $100 spending limit per 30 days, an executive membership, which is $1,000 spending limit per 30 days, and then an elite, which they don't really give the pricing for this, but they do list an array of things you have to do – to be a part of this upper tier of participation.

They also inform you that many of the models don't use English as their primary language, so do keep that in mind. And, as I referenced a moment ago, this isn't just women, there are men as well. They do give a drop down niche menu, that includes things such as gay, couples, brunette, big tits, mature, etc. From the look of things, there are well over a thousand models, of course not all of them are online at the same time, but at least there is diversity. Personally, I chose a very buff and handsome male to see what the free chat was about. There was a second that I had trouble getting things started because of the Java, but it did work for the low band, if you're wanting to view in broadband, be sure to have this feature (Java) installed on your system. I typed in a simple, "Hello" message and after a couple minutes I was responded with a smiling face.
Since my next messages went unresponsive, I'm getting the impression that he was more interested in talking with someone that was of the male gender….ok. Clicking on the private option a screen cap of him showed along with a message that I was entering a room for private at the cost of, $3.99 per minute, and I could choose my video size of full screen or normal. He did a nice job on keeping the seconds pounding down, giving the ol' tease and temptation, not disclosing too much too quickly. I did find out that he is indeed gay, but I continued to chat for a few minutes. The text was immediately placed as I hit the enter key, so the responses are fast. For him, even faster at times.

I was a bit confused a couple of times because as he was standing up against the wall, pulling down his royal blue jockey shorts and flexing his tightening ass muscles at me, there was still responses such as, "mmmm" "hmmm" and "ok" coming through from him, and he wasn't even at the keyboard. Not sure how that happened. He was very polite, very sexy and very much at ease with showing his buff body and wanting to keep me happy. Which are all good points when it comes to cam shows, with charges such as this site offers. I did enjoy those few minutes that I spent with him, the quality of the video screen, I opted for the normal viewing was nice, more clear that some that I've seen, and as I said, he was very obliging.

I was surprised by the fact that there weren't many Camsters.com models online when I was. This review is being written mid afternoon on a Saturday, and I would assume that would be a busy time, but of the many folks making their appearance and arousal known, there were just 17 to choose from. Free chat will stop immediately with these models if you start abusing your time there, such as by repeating the same thing over and over again, using caps in your texting – in an abusive manner, or just plain being rude to the model or others that are enjoying the free chat as well. Feature showrooms will supply you with a hardcore showing from the model, where as many as choose to be can view this and type in thoughts. The chat is the one on one, and then a semi private will give you the chance to be a voyeur, meaning you can't chat or interact, but you can see the action at a bit of a cheaper cost. I didn't find these options on the ones I checked out, the only thing I found was the ability to partake in free chat, or going private. But different models I'm sure offer different options….?

Finding just what you want from this site won't be an issue, the navigation was simple in that respect, and they do have what's called Camsters Points. This is where each time you log in if you select a favorite model, or most any action you perform will start to build these points that you can redeem for more time, giving you a longer length in private shows for example.
[v]

Conclusion

(3.4)
I would have liked seeing more models online and available at the time I did this review, which, a Saturday afternoon I would have thought would put more on the screen, but going private is easy enough and the voluntary chat and disrobing of the chosen model was nicely done, with some teasing of course to keep the clock ticking. This site is a bit confusing on the pricing elements, and a bit steep in what they charge, but overall it wasn't bad.
Attention: this site has been closed