CushyLips Lip Plumper
You can have full, sexy lips with the help of the lip-enhancing cosmetic product sold on this website.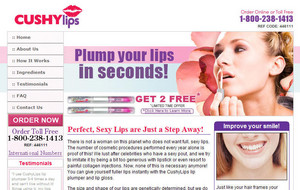 There's not a woman alive who doesn't want full, sexy lips. The number of cosmetic procedures performed every year alone is proof of this. We lust after celebrities who have a sexy pout, and we try to imitate it by being a bit too generous with lipstick or even resort to painful collagen injections. Now, none of this is necessary, as you can give yourself fuller lips instantly with the CushyLips lip plumper and lip gloss.
$34.95 / two months supply
$44.95 / three months supply
$79.95 / six months supply
Attention: this site has been closed