Discreet And Married
The reality has come full circle, and it's in the form of ladies that have too much time on their hands and not enough attention from their hubbies.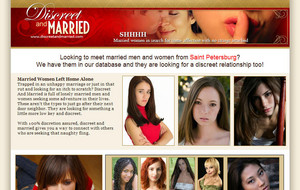 The promises contain the statement that these women are from real, and they're from all over the world, so you'll surely find someone that won't be too far from your back door. Discreet and Married features females that come in all shapes and sizes, all with the same common denominator of loneliness, so if you can keep your lips closed and your legs open, you've definitely got a chance!
Attention: this site has been closed