Extasy Cams
Go live with lust and check out the lovely babes from this site that are ready to show you what they're tired of keeping hidden, it's naughty time!
Complete
review published on 12.10.2009
[v]

Intro promises

(4)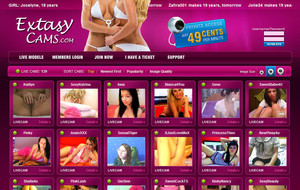 Play a little peek-a-boo with your porn by tuning into the cams that wonít cover the excitement these babes are wanting to bring into your own computer. This site opens up to show the gals online at the moment, and since signing up is free of charge, this is basically the main membership page as well. There will be charges should you want to go private however, itís not free.
[v]

Content Amount

(4)
Last updated on January 15, 2011.
Web Cams:
6000 models, online at a time: 132
Options:
Sound, Text Chat, Remote Cam Control, Broadcast Shows
[v]
Prices
Last updated on October 20, 2011.
$10 / 15 minutes
$20 / 30 minutes
$50 / 80 minutes
$99 / 200 minutes
$0.5 per minute (group chat)
[v]

Impression

(4)
Ah, the sweet vision of simplicity greets my eyes as I administer username and password and find that indeed, the tour area is also utilized at membership, meaning you just have the girls available and a handful of links, no thinking to cloud the cupping of your testicles, just the pretty faces of amateur babes that are hoping youíll choose them to spend some of your private timeÖand money with. Iím actually impressed to find there are at the time of this review being written, 105 live models ready and waiting for you to wink and wank, I hadnít expected that many, given the fact itís a Monday mid afternoon, but kudos to the gals that are trying to make a living.

Theyíve used a screen cap of sorts to portray their faces/bodies for you to choose from, and some will hold the tease effect while others go all the way down to the bare nubbins of naughtiness, giving you their completely nude and outstretched wonders. Each one is unique, some donít even show the facial features, leaving that bit of mystery that every woman wants to be known for. Of course there are screen names offered, catching little ditties that will hopefully get them noticed above the others, which is just one of the ďcuteĒ things youíll find here, the rest is definitely coming from the girls themselves, they are each one an individual with their girl next door look, or the display of exotic and erotic features, most anything you want while window shopping will be at your fingertips.

Never being one to shy away from a challenge or a claim that I wait to see if it can be backed up, I bypassed all of the sweet, tender screen names and decided to dig right in with Nasty Bitch XXX. Clicking on her picture immediately opens the fields for conversing, along with a box that says from Extasy Cams theyíre wanting to request access to my camera and mic, and if allowed that means I may be recorded. Well, in the first place, I donít have a cam hooked up to my PC, and in the second place, Iím not one for being recorded while doing my job, so youíll have to make that choice when you decide to share conversation with these ladies.
My time with Nasty Bitch XXX was actually short lived. She was very lovely, and very enticing, but, she was also playing the numbers, it was apparent to me quickly, so I didnít waste a lot of my time there. Iíll explain that statement through the next paragraph. I switched to a couple, yes, Extasy Cams also offers couples, male/female and same gender, and they were extremely sweet, not just in their look, but their kindness when chatting with me. They go by, Best Blow Job and even though they are from another country, their English language was excellent.

I assumed, because of time spent on other cam sites that when clicking on a picture, I would be in the free area of chat and there would be a link that would allow me to go privateÖ.noÖnot that way. There is no public conversation here. Your sign up is free, but once you do your registration, you have to purchase time packets, and when you click on a live cam person/people, you are immediately in a private viewing with them, thereís no mincing of words first, itís straight to the personal sex. When I mentioned that Nasty Bitch XXX was playing the numbers, that means that even though it was only she and I conversing, I typed and typed to her, to which she never replied. Her fingers were going crazily across the keyboard, so I thought I was going to have a long response, that never happened.

Instead, she smiled, blew kisses, stood up and swayed back and forth, lit a cigarette, proceeded to smoke it, and drank something from a coffee mug, all the time completely ignoring me, trying to keep my hanging on while the time clock ticked away. Yeah, I understand, but that still sucked in my opinion. The couple going by the screen name Best Blow Job didnít do that, he immediately started chatting with me through typed text while she laid back on the bed and rubbed herself while reading what I was typing. They were eager to go right into whatever I wanted them to, which is always as hardcore as the customer requests according to them. They werenít trying to milk the money, they were there doing their job and doing it well. They were completely naked to start with, which was fun to have the screen open and see them being so comfortable and free with their bodies. Nicely done from this couple.

The clarity of each cam I viewed was very nice, better than I expected, so the surprise was a point I wanted to make clear from my write up. The sound varied in places, some was a bit fuzzier than others, but there was sound, so thatís always a plus. There were no buffering issues, there was no waiting for anything, they were quick with the cams opening for your excitement to begin.
[v]

Conclusion

(4.1)
Reviewing a webcam site is always a completely different breed from normal sites, things to look for, things to critique that are different, all of which are wanted to be known by the readers, and understandably so. Extasy Cams had a lot of pluses going for it, the only true negative issue I found came with one of the live girls themselves and her style for doing things, which is a bad shadow cast upon the journey, but the couple I chatted with afterwards more than made up for it, they are a true asset to the company.
Attention: this site has been closed