Here's a top shop for top porn movies from all kinds of production companies; it's easy to use and the movies that your order are well priced.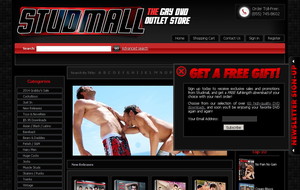 Click here to visit site
Stud Mall is the place to come to wander around the shelves stocked full of hardcore porn movies. There are contributions from some of the best studios around in here and you get a very neat interface to use while searching through them. Prices look competitive, there is plenty of variety and good category lists and search facilities. You simply find what you want to buy, register for free and enter, and then place your order. You can even order by phone, no how easy is that!
$19.95 per dvd
$39.95 per dvd
$44.95 per dvd
$49.95 per dvd
$5 per dvd (discount)
Click here to visit Stud Mall