Walter Bosque Art
It's the image of the image that will intrigue you from this site. Will it be for everyone? No, but those caught up will be admirers forever.
Complete
review published on 10.26.2009
[v]

Intro promises

(4)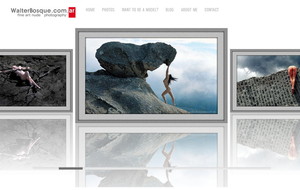 Film has met its match against the fine eye and open soul of Walter Bosque Art. This man puts everything that is himself, into everything he gathers from others, all through the small lens that will be the link. Needless to say, once seeing the tour area of this site, you wonít doubt the pledges of extremely high quality from the content of pictures and videos from this site.
[v]

Content Amount

(0)
Last updated on October 27, 2012.
[v]
Sample Galleries
[v]

Impression

(4)
Holding a camera doesnít make you a photographer any more than standing in a garage will make you an automobile, but for this man, he has the years, experience, training, and personal drive to make each of his shots an expression of himself while viewing others. I can tell from opening the main membership area and breezing my way through on an initial assumption of what Iíll find before going back in for that closer look that the images are of course the main focal point for Walter Bosque Art, as it should be, but there is also a fair amount of videos as well, and I can say with certainty, there were no corners cut in the making of this site, itís all so beautifully displayed with quality to match the endeavor that was taken by this artist.

With the claim of this being the first Latin American site of fine art, they will hear no argument from me, because in my personal opinion, the chronological order of how theyíve appeared doesnít matter as much as knowing that from what Iím seeing, this will be the last, because if your fancy is struck by loveliness such as this, you will need to look no further. They take some of the most unflattering areas on their own, and then add some of the most beautiful women, along with the fineness of the photography skills and itís turned into a place youíd like to spend the afternoon, just allowing the warmth of the sun to filter into your soul while the serenity allows you to bask in the beauty of it all, from beginning to end.

The videos are magnificent. With choices to stream or download, the quality levels will go well into the HD arena. There are no words to describe how perfect the lighting is, and how sensual the context is. They made mention within the tour area, or maybe it was the promo page prior to, that the content for this site is not made to sexually arouse anyoneÖbut how could it not?! The natural beauty of these women, not just the long legs, perfectly shaped fullness to their breasts, or the way their eyes sparkle as the camera gets things into focus, itís more than that, their inner self comes out during their sessions, and itís captured with perfection. In the all-togetherness of their nudity, and the almost shy way their hands will roam across the bareness of their skin, it will have the breath catching in your chest while your heart races to keep up.
Getting to the true heart of this site Ė the image galleriesÖthey have left me breathless. Iím always the first one to admire and compliment those with a talent that I find myself envious of, but this even goes beyond that, I donít think I could come up with enough superb descriptions to even begin explaining what youíll find as these pages open for your step into such loveliness. As promised, he has taken the perfection of the human body and matched it against the perfection of the great outdoors, the jagged rocks, the waterfall, a wicker chair, even an antique looking stool in the midst of a wine cellar, and heís created pure art. Itís like being an interior design specialist, they match eras of time against colorful hues, with the arrangement that guarantees everything compliments each element, and thatís exactly whatís been accomplished here.

I can see now why they make the comment that this site is not meant to arouse people, and Iíll stick with my earlier statement that how could it notÖbut in the same respect, now I can easily say that I understand. Itís the overall beauty, before you even notice the small triangle of trimmed pubes above the puffiest of delicate lips, looking like petals from the most perfect rose plucked from the garden, you canít help but view the entire picture, everything that has been placed so strategically to make it a whole. Thereís a restoration of faith to be found in these images, which is hard to explain by me, a simple reviewer, but to experience it for yourself, youíll find that suddenly your hands have left the keyboard and one is now over your heart as you hear the gasp escaping your lips over the loveliness.

If you expected nothing but huge pictures with the most fine detail, then you will not be disappointed. They do offer three sizing, with the largest tallying to a spectacular, 2848x4288 pixels. Scrolling your screen is the only way to view the magnificent splendor, each honey tone highlight to the blonde locks, and the midnight darkness of the raven haired women, it all shows with such a clarity, which will tell you the nudity of their beings will leave nothing hidden as well, these women are as exposed to the naked eye as they would be right in front of you.
[v]

Conclusion

(4.1)
Iím not sure what I can say about Walter Bosque Art that I havenít tried to convey in my full review, except to say, if you are a connoisseur of fine art, beautiful women, breathtaking landscapes, and perfection from the eye behind the lens, then this is a site that will capture your every mood. The quality is more than outstanding, from navigation to the content itself. Itís softcore and lovely.
Attention: this site has been closed