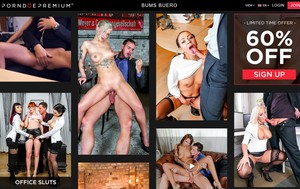 Click here to visit site
The tour page at Bums Buero doesn't really bother explaining what it's all about. The only noticeable text on the whole thing says "she puts in the extra hours." This, of course, is pasted next to an image of a woman being deep dicked over an office desk by a man wearing business attire — and dozens of similar images below. They get really specific when you go to the sign-up page, though, promising daily updates, 1080p playback, and access to over 30 sites.
Getting back to the scenes, I was really impressed with how well shot, lit, and edited they were. They had a real cinematic feel that was reminiscent of the pornos of yesteryear.
And if you want to really appreciate those production values, I recommend that you try the 1080p version. There is a rather dramatic jump in playback quality between the 720p and 1080p formats. So, don't go cheap on the bandwidth. that extra gigabyte is worth it.
If, on the other hand, you are in a hurry or just don't care all that much about playback quality, they have a 480p and 240p download options as well.
Each scene also has an attached photo gallery. You can expect somewhere in the neighborhood of 90 to 250 decently sized(1,600 x 1,300 pixel) JPEGs. They aren't exactly award winning studio photography, but they are a nifty addition, nonetheless.
My only complaint about the content would be that none of the dialogue is in English, and since there are no subtitles, you aren't going to know what the characters are talking about. Thankfully, these scenes are sexy heavy and light on the dialogue, so it's not that big of a deal.
I also think their timestamps could have been a tad more specific. I was able to ascertain that they update an average of 3 times per month, but timestamps like "two weeks ago," "one month ago," "two months ago" are just too vague for my taste.
Those with a premium membership will be able to overlook all of that, however, once they realize that their membership gives you full access to the
Porndoe Premium
network, which houses over 30 kinky niche sites.
Bums Buero provides some really hot office romps with high production values and gorgeous European models. Yes, the whole language barrier thing was a bit of an issue, and I honestly thought the 720p download option could have looked better, but that's all easy enough to overlook once all all of those bonus sites are taken into consideration.
Click here to visit Bums Buero