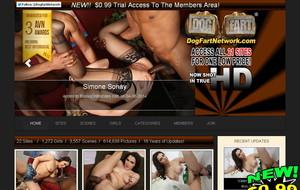 Click here to visit site
If you've done any casual porn browsing in the last decade or two, chances are you've gotten off to some
Dogfart
content. In addition to creating legendary site
Blacks on Blondes
, they've also cranked out 19 other over-the-top interracial brands, all of which are now available in one place for one low price. With over 15 years of updates, their archive is somewhere in the neighborhood of 1,087 girls, 2,868 scenes, and 539,000 pictures. And with regular, network-wide updates, those numbers will only continue grow.
I've been a fan of
Dogfart
since I was just a young lad, cutting my teeth on the delicious interracial action served up by
Blacks on Blondes
. 10 years and 10,000,000 packs of cigarettes later, I'm mere a shadow of what I used to be. But them? They seem to be better than ever. In fact, as I browse the pages of their membership area, I see 20 sites, a number of which appear to be new. They're all interracial, true enough, but they manage a high level of diversity, nonetheless.
In addition to the obvious spin-offs, they've went the extra mile in terms of creativity, and came up with some real winners in the process. Take, for example,
Cum Bang
, a site where über-hot Nubian babes are banged by musclebound white men decked out in Rebel flag regalia. Then you've got your solo girl sites, featuring starlettes like
Katie Thomas
and
Candy Monroe
.
And it goes without saying that they've got the cuckold department well covered. My personal favorite, though, is a little site called
The Minion
: here you'll find a grossly overweight man, all stretch marks and body hair, sporting one of the tiniest dicks in porn. And believe you me — watching real stunners, the kinds of gals who should have actually done something with their lives, eat his ass and lick his silly little balls is probably the hottest thing you'll ever witness. It sure worked for me.
But the best thing of all is, unlike most large networks — especially the few with content going back this far — each and every single one of these sites still updates on a monthly basis. Needless to say, that adds up to a whole hell of a lot of content. Numbers that match up perfectly with their advertised 5207 scenes. As if that weren't enough, they've added a new behind-the-scenes section that holds over 70 videos full of outrageous outtakes and wild outburts that put "reality" TV to shame.
Of course, impressive numbers, even quality content, just aren't enough to hook folks anymore. No, you need high-quality video and fast downloads. Fortunately, they've got both. The more recent updates are available in multiple, 720p HD formats. The best of the lot of the MPEG-4 file, which has a 14k bitrate and killer clarity. They've also added multiple low bandwidth options, including an assortment of 2 minute clips, as well as mobile-friendly files.
If you have more than a passing interest in interracial porn, then you'd be doing yourself a great disservice by not having a membership at Dogfart. They've been the king of the mountain since the late '90s, and so far as I can tell, nobody is going to be knocking them off the top any time soon. There's currently 20 sites, all still updating monthly, all offering true HD black-on-white action. Did I mention membership can go as low as $19.99 per month? Well, what are you waiting for?
Click here to visit Dogfart Network