Are you in the mood for some one on one sex? Why not keep it in the monitor with your choice of girls that will get you off...for a price.
Complete
review published on 10.25.2017
[v]

Intro promises

(3.5)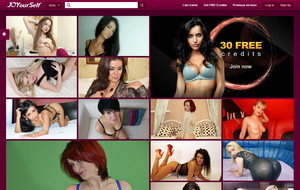 Click here to visit site
Open up the page to this site and youíre greeted with stats and webcam shots. They claim on here that they have 67141 performers at the time of this review, with only 1649 active online at this time. They do break it down into how many girls, lesbians, couples, matures, boys and support people, so thatís a nice touch. Easy navigation here.
[v]

Content Amount

(4.5)
Last updated on January 20, 2019.
Videos:
Over 1000 videos (stream only)
DRM: Protected
Pictures:
Over 170000 pictures
Web Cams:
67140 models, online at a time: 1720
Frame Rate: 15 fps
Options:
Sound, Text Chat, Broadcast Shows
Extra:
Model Index, Live Chat
[v]
Prices
Last updated on January 20, 2019.
$1.99 per minute (private 1-on-1 chat)
$0.59 per minute (video on demand)
$29.99 / 28.99 credits
$99.99 / 98.99 credits
free / 10 minutes (registration bonus)
[v]
Sample Galleries
[v]

Impression

(4)
I immediately logged into the site of Joy Ourself and within those few seconds, 4 of the available girls disappeared, so now we are down to just 617. This site has links across the top of the page, so you donít get too lost too quickly that labels out, whoís online, a model index, favorites, buy credits, account balance, help and a log out link. Since I have 20 credits in my account, I want to pan out some of the stats to this site before I attempt an actual conversation with one of the models. Venturing into the ďour modelsĒ area I wanted to see what it held, this is where they have a very nice model index that comes with free images. You know how I enjoy doing any pictures first, so letís see what they have. I chose a dark haired lady that goes by the screen name of, Absolutely Sin, sounds like a fun girl, right? The page opens up to a bit of a profile and thumbs, I did have to giggle when I read the short profile when it said one of her turn offís is ďcheap peopleĒ, ok, that tells me that Sin costs on this site! She must admire her butt qualities because there are 24 cam captured image thumbs that never shows her face directly, but you get to know her ass very well. The thumbs in case you are wondering are sized at, 80x60 pixels and then when you click on one to enlarge, what it does is replace the bigger advertising shot next to the profile, no opening in a separate window or full screen anything, just 320x240 pixels that donít have the best quality.

For a little information on this site itís been online since 2004 and the average number of hosts that are online at any given time is 1000+. This site utilizes JAVA based webcams, but they are currently updating the site to full flash. The actual frame per second is 1 fps and can reach up to 5 fps in private sessions depending on the modelís connection. Sound is available with certain models and cam 2 cam sessions available during private shows. On the HELP page it notes that your membership is valid for 30 days, if you still have money in your account, you can use it for private shows with no date limitation, and you can add credits to your account by credit card. In case the performers donít do what you are requesting, please be advised that the performers determine the term of the broadcast.

It does state that the performer pretty well sets the price in credits on how much it costs to chat with her/him. It falls between 1.5 credits and 5.5 credits, and you can check the prices before entering the private show using your username and password. Iím making an assumption here, but they donít come right out to give the information of how many credits are a dollarís worth, but I think itís $1 per credit from the sounds of it. Their packages run to the tune of packages that have the dollar amount of, $29.99, $59.99, $79.99 and $99.99, and these can only be purchased with a credit card on Joy Ourself.
I decided to try out the free chat first on this site, just to see what you get for nothing. I just asked the model what you get with free chat, telling her that Iím new to this, and she responded with, ďNot too much in free chat,Ē ďBut all you want in private.Ē So apparently her pretty pink bra stays on and she doesnít flash any private parts. There is a link that will immediately pop you into private, so maybe Iíll check that out. She says itís $2.99 per minute to talk with her, damn, for that price, I hope sheís good. They are definitely here to attract the money and get out of the free area, there are about 6 other people on here chatting with Kristine (the model) along with me, and she is replying to no one but myself, but Iím the only one asking about the price and leading her to believe Iím wanting to go private. Oops, hang on folks, she just flashed her thonged bottom. There must be someone in the room with her because she is paying little attention to the screen but talking to someone off to the side.

Oh, just so you know, if she doesnít like what you say, you are kicked off by her and you have to sometimes contact customer service to get back in for free chat with any of the models. Ok, I tried to go private with this girl, but there was an error message that popped up within just a couple of seconds saying she was having camera problems and it took me back to the account balance page, saying that I had used up some of my creditsÖFOR WHAT? I never got to talk to anyone! So not only do you not get much for nothing, but you get even less with a charge to your credits!

I did finally find the pre-recorded sessions that they offer as video feeds using Macromedia Flash Player 8. These private video viewings will drain your account to the tune of .59¢ per minute. The quality of the film wasnít too bad, there was a bit of fuzziness to it, but really not bad, the action was hot with a pretty brunette deep throating a long thick hard-on sported by a man that was making no facial expressions whatsoever. There are 1000 recorded sessions choices available, which I would have thought many more would have been archived.
[v]

Conclusion

(3.8)
Iím all for web-cam sites, and I enjoy the live chat option of getting turned on, but Iíve seen other sites that would get my fee before Joy Ourself would. I was just overall disappointed with this site from the moment it opened. Navigation wasnít bad, but the quality of getting to talk to models was terrible, I mean, they could at least carry on some general conversation with you, itís all in the sales presentation of trying to lure you into the payment of private chat, but instead they just ignore whatís being said or they boot you off. Then when you do try to go private, they have problems with the feed and you not only lose connection, but you also lose credits.
Click here to visit Joy Ourself