Next Door Amateur
[
Visit site
]
All real amateur girls next door! All taken by the same lucky amateur photographer, he meets real amateur girls from classified ads to fuck on film!
Complete
review published on 04.03.2018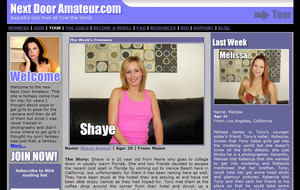 Click here to visit site
Cute college aged girls who want to fuck a total stranger on film! They take a good pussy punishment and then either get a creamy cumshot on the face or take a creampie in their pink twats! The photographer travels the world in search of pussy and he'll leave no stone unturned looking for the hottest amateur chicks to fuck. Over 250 beautiful girls inside the site from all over the world.
Wow this guy has my dream job! He travels the world looking for hot pussy and gets to fuck girls that come to him! The photographer on the site (unfortunately they don't mention his name) is an amateur photographer who puts ads out to meet hot girls. He also meets them in chat rooms and from his website. When they approach him for sex, he gives them cash to fuck on film and brings his adventures right to us on his website.

Before we get to the video, there are quite a few pictures on Next Door Amateur. There are over 250 girls that he's fucked and they all have picture galleries to browse. They are high quality digital pictures at a resolution of 720x540. They start out with the girl masturbating and then proceed onto the whole sex scene. My favorite girl that he captured in pictures is "Vanessa". Vanessa is a really cute brunette from Europe who loves to take it in the ass! They had some really hot anal sex pictures of Vanessa with a cock stuffed in her backdoor and then after it was pulled out and she was left with a huge gaping asshole!

Whew, before I jizz all over my keyboard, let's move onto something else. In the video section of this site, they show a small picture of each girl sitting on the bed. You choose which girl you want to see on video and you're taken to her individual page where you can read a short biography about her and find out some vital statistics. You have the option to see either her pictures or videos.
All of the videos are in two different formats. They have streaming Real Media files and Windows Media Player files. They are also broken down into high speed and dialup clips. I checked out one of the dialup clips and it was so small that I could barely read the text on the clip. Which is good for 56K users, but it would frustrate the hell outta me. Unfortunately on this site, there is no "medium" version that the dialup users can try and suffer through, it goes all the way from dialup to extreme high speed at around a 30MB file size. The high speed version is extremely clear but the screen size is not as big as I wished. At the size they make these videos, they could have increased it to a bigger screen.
Now the action is a different thing. The girls are quite willing to suck cock, spread their pussies open and even get fucked in the ass. The sex in these movies is extremely explicit and hot. If you're a smut lover like me, you're really gonna see these cuties be put through the ringer!
My personal favorite was Amber Peach, she's in Los Angeles and she is one dirty bunny! She slowly strips off her clothes to expose her perky nipples and then she immediately gets on her knees to suck cock in some awesome POV shots. Eventually she gets fucked and her pussy turns a bright cherry red from the friction! Before you know it she's sucking more dick and she gets a huge load of cum all over her beautiful face! That seems to be the case on most of the videos, but certain girls are better looking than others and some of them have hotter videos than others.
Besides the pictures and videos, there aren't that many other features on the site. They have a sex toy store that you can peruse and a few links to other sites. They also have a news page where you can catch up on the latest happenings of
Next Door Amateur
.
When you have a membership at
Next Door Amateur
, you also get free bonus access to several other member's sites. I'll describe them in detail for you.
West Coast Gangbangs - Chicks from the left coast are picked up for sex on film
Her Pretty Face - Lots of cute chick taking a lot all over their pretty faces
Creampie X - Hotties get jizzed internally and they squeeze it out into a creampie
DP Amateurs - Amateur girls taking their first double penetration in both holes
Elizabeth Del Mar - The home page of this blonde amateur cutie
Yahoo Club - It's a free membership to the creampie club on Yahoo
Overall they offer a bounty of exclusive content of over 250 girls. Chicks from all over the world are scouted out and fucked. The action is explicit and very hardcore.
Click here to visit Next Door Amateur