Your taste turns towards the beauty and grace of Oriental ladies, the softness of their eyes the horniness between their thighs, and it's all live!
Complete
review published on 11.15.2017
[v]

Intro promises

(3.5)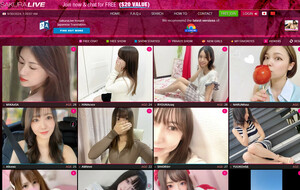 Click here to visit site
It's almost as if they're sharing your bed, except you seem to have even more control over them this way! Sakura Live is of course a cam site, promising to hold thousands of lovely Asian girls/ladies that are ready to be turned on and turned loose by you. They have the toys and the desires, and you give the directions of what you want to see. Purchase credits for privacy.
[v]

Content Amount

(3)
Last updated on January 24, 2019.
Pictures:
Yes
+ Video captures
Web Cams:
9470 models, online at a time: 168
Options:
Sound, Broadcast Shows, Model Bio
[v]
Prices
Last updated on January 24, 2019.
$2.95 / 10 tokens
$100 / 60 tokens
$1.8 per minute
$3.8 per minute
[v]
Sample Galleries
[v]

Impression

(3)
There's a lot of information stashed away here and there, and before going right into the goodness of the cam performance from a lovely Asian girl, I wanted to give you a little background to the operations. You don't actually have to register to join this site, your sign-up actually begins when you purchase what they call points. Right now they have a deal on those packages of private time, so do take that into consideration. Also, they keep to the pledge that things can get just as wild as you want, you control it all with your erotic imagination, telling the girl what to do to herself and when. You can have strictly one on one time, and you're free to use your own cam as well, but the complete privacy will cost you an additional half point per minute.

When making the necessary additions, such as username and password to get into the membership area, they have nice colors for the backdrops, and a very organized look. I intentionally lingered for a few minutes before doing anything because most cam sites will automatically reload in small timed increments to keep the offerings fresh, but from this site, you have the manual button to click, reloading as you desire. There are pledges of Sakura Live holding thousands of girls, however at the time of me doing this review, there were 168 showing, still not a bad number for being a mid-morning. You'll notice there are different colors to the framing of their advertising shot, blue will give you the ones available for free preview, purple says a show has started, of which you can join in, and also, a deep rose color that says this honey has been taken into private mode, meaning just one viewer, and a bit more points for payment.

I want to put some feelers out for the best and informative write up I can offer to you, so I am going to jump into a public display of dirtiness and see what my points will purchase. Opening up to admire a lovely Japanese girl that goes by the screen name of; Xxamorexx, and I must admit, the first flash of her page made me shake my head for a minute. The main page was so calm and almost serene with its offerings, and this page held a much busier look, still well organized, just a bit of a surprise. You have her bio information, links to the right of other girls that are online, and then a slew of screen caps that are small, placed close together and a joy to look at once you focus clearly.

With bold letters across her screen they let you know the show has started, but a streaming arrow awaits your click to watch her, and also another area to be clicked if you want to chat with her. Just to give you an idea of what this particular cost will be, they do nicely display that .2 cents per minute will be what's taken from your pornographic piggy bank. Ok…well, moving right along, it looks as though I'm going to have to put feelers out for another fornicating female because when clicking to watch the show, screen went black, nothing came up, and with the chat with me link, it showed an error. When trying to exit, the entire page froze and then completely shut down. The good news is, nothing was taken from my balance or points during this fiasco.
Thankfully, after going through the process of logging back in, I did have better luck with the next girl. You have a nicely sized screen of streaming action, and the quality is very good actually. From there – there are choices. To the right, the screen of chat text, which everything is in Japanese….I only speak English, but there is a translation area, only giving a list of choices of things you can say to her…..but what if you want to think outside of the box? You have buttons for 2 way chat and private and also something called "hand/lips feature," which I'm not sure what that is, but will check it out.

Well, get ready for a lot of information, and not all of it is going to be promising for this site. The girl that I did finally get in to talk to goes by the screen name of, XoYURIKAox, and there's no denying she is breathtakingly beautiful. Her long, chestnut colored hair shimmered, she had big eyes and a lovely smile and from the look of things, her body was exquisite, but all I saw was from the waist up, all totally clothed. I mentioned the translator box, which offers statements, such as, "Do you have a toy," "Will you masturbate," things such as that, however, what you want to remember is, it will translate that to Japanese for her to understand, but when she types back – you have no idea what she's saying in return.

If you try to type just a simple statement in English, which the girl I was chatting with did understand a little…very little of English, they study your words and try to figure out what you're saying, which is fine, but while doing that, they are burning up your minutes, meaning burning up your money! Her bio had a checkmark next to the "toys" area, so when I asked if she had toys, after nearly a minute and a half of looking at my text, she then typed back, "No, no toys." Ok, then why say she does? We never progressed to anything even playfully related, let alone sexual. I finally exited out of the private chat. Oh, and the hand/lips I spoke of, what you do is click on one or both of those and place them on the screen, any area of her body that's showing and the hand will squeeze, the lips will kiss and lick, and I'm assuming she must be able to see this from her side because it brought a big laugh from her. But, just so you know, it's $2 for a 30 second interval with one of these features.

The minute I logged off of the private chat a large box popped up with pricing and wanting me to purchase more points. For what? I got nothing out of the ones I already spent. I did venture into a few other girls that were already in showings, and there were scenes of masturbation I viewed, and some very hairy pubic areas, so sex does take place. You are going to go through money faster than you'll be able to jerk off from this site because I spent no more than a few minutes in private and just morsels of public showings here and there and my account was nearly depleted.
[v]

Conclusion

(3.3)
I found good and bad in regards to the site, Sakura Live, and the good was very limited to the beauty of the girls themselves, all of them that I strolled in to watch were just gorgeous, and exactly what you would expect from the allure of the Japanese sexuality, the second best part was the streaming footage of their cams, they promise HD, and that's what you get. From there, everything seemed to go downhill with presentation and the eating up of money on a very quick basis.
Click here to visit Sakura Live