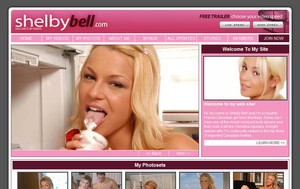 Click here to visit site
If the outside tour pages are any indication, then the saying is true. Blondes really do have more fun. This site is promises to be a rollercoaster ride that is always on its way UP. The site is updated weekly and promises to bring you everything a pornstar's fan could want — her live webcam shows, Shelby videos, as well as access to six bonus sites. The tour pages show pictures of Shelby flashing some skin in public places, hanging out with famous porn stars, partying with her equally beautiful girlfriends, and of course getting fucked six ways to Sunday. The tour gives you a lot of teaser screen caps from her videos and also gives you a sample video montage set to a throbbing beat. If your cock is throbbing as hard as that techno beat, then you need to get inside Shelby Bell STAT!
Every minute a porn star is born — and
Shelby Bell
is no different. But it takes a special kind of girl who will stand out from the rest. Shelby definitely has all the right ASS-ets to make one helluva porn princess. Her petite body and platinum blonde locks are lifted right from the pages of Penthouse. Shelby has the looks of a California beauty queen. But when she opens her mouth, that sexy Canadian accent is unmistakable. Shelby could be the best Canadian export since....err....well, since EVER.
Most of the video dialogue is in French-Canadian, so for us English-speakers, it is near impossible to decipher the flirty banter between Shelby and her co-stars. But, her accent is so sexy that it's a pleasure just to hear the little minx talk. Shelby's personality is equal parts teen ingenue and bad-girl porn princess. Her bio describes it as, "if this were the Eighties, she'd be the groupie jumping on the tour bus with the band in a music video". She's already starred in some gonzo video titles from porn studios Anabolic/Diabolic. Luckily, her brown eyes and bubbly personality still give her a fresh-off-the farm appeal. But, bad-girl touches like the tattoo on her stomach and her pierced nipples, tongue, and pussy were all I needed to see to know that Shelby's a real wildcat in the sack.
Inside the member's area, you'll find both pics and video. The pics are divided into sets and you'll find a mixture of studio photos, pics that were taken during her hardcore video shoots and photos of Shelby flashing in public places. The photos are perfect for when you want to take an up-close look at Shelby's pierced clit (yummy) or see a still shot of her pretty face covered in cum. Shelby's videos feature quite a few names that you might be familiar with.
Peter North
graces Shelby's beautiful face with his famous cumshots in not one but
TWO
videos featuring the famous porn stud. Fellow Canadian cutie
Christine Young
makes an appearance in a MFF threesome video that shows that Shelby definitely knows how to multitask. As a matter of fact, most of Shelby's videos feature her in group action of some kind. Whether it's a kinky threesome with a girlfriend and a lucky boy-toy or an all-girl lesbian romp, Shelby goes by the adage that if one is good, two or three are even better!
This is a fairly new site, so although Shelby has three full pages of videos for you to enjoy, some of them are videos that she co-stars in and borrows from her friends' sites. You will notice that some videos are branded with a
PeterNorth
.com,
Christine Young
.com, or
BrunoB
.com logo in the corner. Hopefully, more videos with Shelby as the focus will ba added soon. The site is updated weekly, so we should be seeing more of Shelby starring in her own smutty movies. Each of the videos is encoded in both Windows Media and MPEG format. You can watch the videos directly in your browser or you can download the videos to your hard drive and watch them over and over again. There also aren't any live shows scheduled yet, so I didn't have a chance to see Shelby interact with her members in any real-time action. But, I have a few kinky fantasies that I can't wait to ask her to act out on her webcam (one involves chocolate syrup, a banana, and a blindfold). If her videos are any indication, watching her live is guaranteed to be EXPLOSIVE.
By herself, Shelby is absolutely fabulous. But, with your membership to her site, you also get full access to other sites in the network. And these aren't just some cobbled together collection on bonus sites. These extras give you the best-of-the-best in the world of porn:
Brain Pass — full access to exclusive content sites
Peter North — pussy throbbing, ass fucking and hot creamy facials
Boys Casting — young stallions sucking cocks and getting ass fucked
Sweet Amylee — slender Canadian brunette in hardcore action
Hardcore Fiesta — blowjobs, anal pounding and candy-coating cumshots
Christine Young — a unique perspective into young woman's sex life
Silverstone Video — the hottest and most well-known pornstars in the industry
Real Squirt — cuties feel the unique pleasures of female ejaculation
Melissa Doll — Canadian sweetheart in hardcore action with her friends
I want Latina — young and fresh Latinas in hardcore action
Peter Cumshots — chicks take huge loads of cum on their faces
Who would have guessed that there could be so much sexual energy packed into one petite blonde body? Shelby giggles her way through a collection of porn pics and videos so steamy they'll make your computer monitor fog up. Unlike many girls who have been in the porn biz for a while, Shelby's bubbly personality still shines through in her scenes. Whether she's playing a game of strip ping pong with her girlfriends or opening her mouth for a
Peter North
cumshot special, you can tell this girl just LOVES the sex.
Click here to visit Shelby Bell