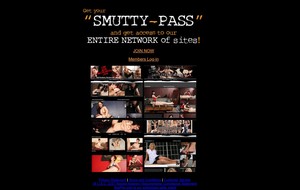 Click here to visit site
The tour page at Smutty Pass looks like a smorgasbord of carnal delights, and these teaser images are accurate, you can expect a meal heavy on discipline, degradation, and equal helpings of pain and pleasure courtesy of four very different but equally perverse sites. What's more, members unlimited downloads and streaming, a mobile-friendly layout, and the nothing but "the highest quality adult pictures and videos."
The
Smutty Pass
membership area looks like a real den of iniquity. Between the horns in the site's moniker and the banner proudly displaying an evil eyed harlot chewing a ball-sack is a sea of thumbnails depicting every lurid act imaginable. Varied though they might be, the focus on BDSM and femdom is apparent.
Digging a little deeper reveals 20 categories, each with the number of scenes associated with them conveniently listed. These aren't just the expected hardcore staples, either. Well, not unless you consider things ball torture, device bondage, and slavery to be par for the course.
But this is hardly a surprise coming from a network made up of sites with names like
Inescapable Bondage
,
Femdom Foot Fetish
, and
CBT and Ball Busting
. The only one that even comes close to approaching ordinary is the solo site of redhead goddess
Ryanne Redd
, but that facade of normalcy quickly fades once you realize that, among other things, Miss Redd's pastimes involve foot worship and very stern masturbation instruction.
On the bright side, these hotties have more to offer than mere beauty. I was pleased as punch to find that most of them seem to not only be adept at tying knots, but at the art of torture, too. I also have to commend whoever was in charge of the foot fetish site. It's not often I get to enjoy such a lovely collection of soles and toes, and the addition of sniffing was a welcome one indeed.
But as big of a foot fetishist as I am, I think the standout site on this network is, without a doubt, CBT and Ballbusting. The chicks in charge over there are downright vicious. I found myself cringing as I saw penises kicked and spat on, sometimes even tied off until they turned a frightening shade of blue. That madness made
Ryanne Redd
's penis mocking seem like a mild form of foreplay by comparison.
I am also happy to report that all of these sites offer 1080p resolutions for their videos. In fact, each scene can be downloaded in your choice of 3 different formats. For whatever reason, they have limited streaming to the 480p option. Why they'd do this is beyond me. I mean, their download speeds are 12 megs-per-second. Surely they can handle a little 1080p streaming.
Initially I counted 262 scenes. After browsing the "all updates" section on the main page, however, and doing a little basic arithmetic, then comparing that result to the number of scenes listed by site individually, I found myself with 15 extra scenes. A minor discrepancy to be sure, but I still found it odd. Truth be told, I could only figure out where 11 of those scenes came from. As it turns out, there are two sites not listed under the main menu: Arab Mistress and VIPissy. My best guy is that they are doing a little cross-promotion.
Either way, 15 extra episodes seemingly pulled from the ether is no big dea. Hell, if anything, consider those a bonus. What truly gets my goat is that there has not been a single update on this entire network since May of 2013. In fact, if the timestamps on these updates are accurate, it's as if all these sites suddenly popped up in May of 2013, posted a whole shitload of content, then vanished as soon as they appeared. What does this mean? Beats me. All I can tell you is that it doesn't jive well for anyone who considers their membership an investment.
Smutty Pass offers a wonderfully varied collection of Femdom, dished out by beauties with real commanding presences. It would be all too easy for me to give this network my full recommendation were it not for the simple fact that it is all but impossible to find an episode posted after May of 2013. It's a shame, too, because I feel like they were really onto something here. Still, if you're looking to add to your femdom collection, it couldn't hurt to sign up. Just don't hold your breath while waiting for new updates.
Click here to visit Smutty Pass