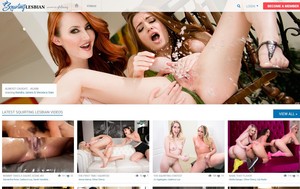 Click here to visit site
Squirting Lesbian, as its name entails, offers much more than just your average girl-on-girl site. These girls don't just go down on each other, they put on a veritable cunnilingus clinic, bringing each other to "gushing, quivering lesbian orgasms." That's because these scenes are hand-picked, the juiciest that the Girls Away has to offer — a stellar lesbian network which, by the way, your membership affords you full access to.
Finding your way around this site is a simple affair. Content can easily be filtered by rating or views, as well as a series, model, and category. The latter of which being conveniently set to "squirting" upon login.
But why would it be necessary to have a squirting category on a site whose main forte is squirting, you ask? Well, as it turns out,
Squirting Lesbian
draws all of its content from the award winning Girlsway network. If one of their devilishly hot productions involves squirting, it winds up here.
One major plus of having Girlsaway as the source is that you're guaranteed that those squirting pussies are going to be attached to top notch beauties, and more than a few stars, too. Just off the top of my head, I recall jerking off to the likes of
Dillion Harper
,
Adriana Chechik
, and Riley Reid during my short stay at the site.
Another bonus of this method of content acquisition is that Girlsaway is apparently quite versatile when it comes to theme and niche. For instance, I just finished enjoying a scene featuring Dahlia Sky and Syren De Mer that involved, among other things, kidnapping, bondage, and humiliation. And who could forget the one where
Romi Rain
and
Dillion Harper
hit the pads in a MMA gym before going to town on each other's sweaty snatches? Not to mention the abundance of episodes involving lesbian threesomes, orgies, and, last but certainly not least, the delightfully imbalanced power dynamic of MILF/teen pairings.
The content only dates back a few years, so you can count on every episode being available in 1080p high-definition playback quality. In fact, every scene is available for download in 5 different resolutions. They have limited the format to MPEG-4 files, but were good enough to include SD ones going as low as 240p and 160p for those of you with not so hot Internet connections.
For whatever reason, streaming video was limited only to the web HD option. So, if you want a viewing experience that surpasses 540p, I'm afraid you are just going to have to do some downloading. On the bright side, the average transfer rate is 6 megs-per-second, so you won't be waiting too awfully long for that gushy 1080p goodness.
Each scene also comes with its very own photo gallery. The image count is a bit inconsistent from set to set, with some having as few as 39 and others as many as 120, but I think the main thing is that they all look quite clear and crisp and share the sizable dimensions of 1,920 x 1,280 pixels. This isn't exactly award-winning studio photography material, but nothing is out of focus, there aren't any redundant images, and whoever picked these babies out has as good an eye as any for awesome action shots. Oh, and just in case you were wondering, full gallery ZIPs are included.
As I have already touched upon, this isn't so much its own site but more a collection of scenes from Girlsway that fall just so happen to fall under the squirting umbrella. As such, the update schedule hasn't exactly been consistent throughout the years. Their archives are filled with nice weekly runs of content followed by gaps as big as 4 months.
Lately members have been fortunate enough to be riding one of those weekly update waves, but there is no telling how long it will last. At the end of the day, I suppose it all comes down to how often Girlsway wants to crank out scenes to feature squirting.
All is not lost, though. If your interest in lesbian porn goes beyond squirting, then I think you'll find you are getting plenty of carpet munching for that $29.95 a month fee. As I write this, membership includes access to 5 top-notch girl-on-girl sites: Mommy's Girl,
Web Young
,
Girls Try Anal
,
Sex Tape Lesbians
, Girlsway Originals.
As much as I enjoy the sight of a beautiful babe with a vagina gushing like a geyser, and as well as I think Squirting Lesbian pulls off that particular effect, I'm not sure they do it regularly enough for me to give them my full recommendation. Yes, they have been posting at least two new scenes a month as of late, but you don't have to peer very far back into their archives to see that their update schedule has been, well, less than reliable. With that having been said, once you factor in the substantial bonus content — all of which, I might add, being lesbian in nature — it may still be more than worth that $29.95 per month membership to you.
Click here to visit Squirting Lesbian