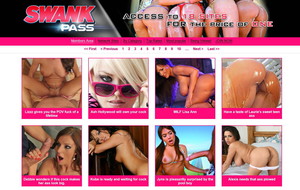 Click here to visit site
Swank Pass is a network of 18 niche sites that, from the looks of the tour, tries to give its members a little bit of everything. Teaser images show interracial, lesbian sex, all manner of group sex combos, and an impressive list of fetish site — everything from big tits to trannies with big tits. Better still, they promise daily multiple, daily updates, HD video, and a plenty of bonus content.
For such a large network, they've went with a surprisingly straight forward, user-friendly layout. The main menu atop the page has all the basics(photos, movies, models, etc) while the menu below it serves as a vehicle to browse by site or, if you're looking for something really specific, by taking command of an advanced search engine, with over 200 custom keywords. Sound like overkill? It's not.
Swank Pass
currently houses 18 sites, ranging from sweet teen action from
GirlNextDoor
and
Just18
, to the more high-octane action provided by
Plumpers
and
Tranny Kingz
— all the major hardcore niches are covered. Well, aside from MILFs ... but one can't have everything in this life, right?
The network launched in early 2005 and since that time has been on a mission to give the world healthy doses of hardcore action at regular intervals. It's paid off, too, as there's now a whopping 5752 scenes and 12778 sets. With 18 sites, that averages out to just over 250 updates per site. And after further examination, it turns out all the sites are still active, so an even dispersal isn't out of the question.
For such a small amount of sites, they sure do manage to cover a lot of ground. In addition to the dandies I mentioned earlier, a few other notable categories they've tackled are big tits(
Dcup
), ebony fun(
Black Lust
), and, for all you guys who have dreampt of going piggin' but lacked the courage,
Plumpers
. And I think
Gent
deserves a mention for its inventive and highly nostalgic brand of smut. One thing all these sites have in common, though, is extra servings of raunchiness. You've been warned.
So far as the technical aspects go, they've done as fine a job as any of the big boys. The lighting, camerawork and editing are all up to par with the big studios. And I'd even put the dialogue in their more involved scenes up against any of the classics. Another big plus is that most scenes have longer running times. Why, it's not uncommon for a video to run as long as 50 minutes. And that suits me just fine.
Unfortunately, raw video quality is a mixed bag. Some scenes feature HD specs with spectacular playback to match, but it seems the majority come in lackluster Standard Definition options. We're not given a lot of options when it comes to format, either; the latest scenes are almost exclusively MPEG-4, whilst the older scenes are only available in the Windows Media format.
Likewise, the photo galleries are all over the place in terms of resolution size and clarity. Unlike the videos, though, there are more galleries featuring high-res options. Another nice touch is that, in addition to allowing you to view the shots on-site, you can download full galleries in ZIPs marked by resolution size. Another thing they have in common with their video counterparts is that they're not stingy. You get, on average, 100 photos, but often galleries hold as many as 150-200.
Aside from wishing there were more HD video, I think the only major disappoint I came away from this site with would be its navigation. I mean, considering the sheer scope of the site, a few more browse tools wouldn't hurt. I also can't say I'm a fan of ads in the members' area — particularly on a pay site. Also, the model index could have been a bit more informative.
On a more positive note, you should be happy to find out that, in addition to the 18 sites included with your membership, you also get access to dozens, potentially hundreds(depending on how long you've been a member) bonus video feeds. The range of fetishes and niches is even wider than the sites on the network, so unless you're a particularly rare case, you should be able to find what you're after.
Swank Pass isn't the strongest network out there. But what it lacks in raw quality, it makes up for in sheer determination. The site has had an undeniably impressive 9 year run, amassing a considerable archive which, if the breakneck schedule of damn multiple daily updates persists, will outpace even the most dedicated of masturbators. If they could only improve upon their video quality and perhaps give their layout a facelift, they'd be a real top-shelf site. As is, it's a damn good if you're after a variety of smut at a reasonable price.
Click here to visit Swank Pass