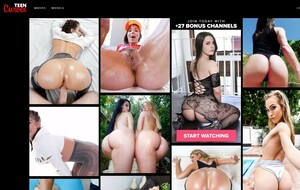 Click here to visit site
Teen Curves's tour page certainly lives up to its moniker, I'll give it that. Immediately upon visiting the site, the user is overwhelmed with a barrage of shapely teen asses, giggling and gyrating, often mid-intercourse. And just to drive home the point, they're all animated. There are promises, too. Like the "biggest asses" and the "hottest teens." As well as "fast, unlimited downloads" and reminders every few scrolls that the videos provided here are, in fact, 1080p high-definition.
The scenes were well shot and lit, and featured performances that would rival any of the top-tier studios. They're also quite lengthy, too. A half hour is a short running time 'round these parts, so you should have plenty of time to build up a massive load.
Sadly, that's where the fun ends. The earlier parts of the archive contain video footage with sub-par play-back quality. And the pictures, which aren't even that great now, have lost a step, too. Not a big deal, I know. But it doesn't end there.
No, the site's biggest flaw, simply put, is the fact that it does not exist.
Yes, there was once, long ago, a site named
Teen Curves
, but after a short stint and very few updates,
Team Skeet
abandoned it. I can only assume its few scenes were absorbed by
Teeny Black
and a God knows what other sites on the network.
Hey, it sucks, but I suppose access to 17 teen-themed sites is supposed to make up for that, and as vague as the tour page's promises were, in a way they do. At least, I'd imagine that's what they were banking on. It's nice .... Still, though, I can't help but feel slightly deceived.
Now, looking at it for what it is, which is basically the Team Skreet Network, I'd have to say, nice though the vast and diverse archive is, it's not without its faults. Namely, older content isn't nearly as high-quality as the 1080p HD they brag about in their tour page. Also, the members area has too many ads, and site-specific model indexes are nonexistent. And don't get me started on the ads ....
But you know what? Deceptive tour page side, I think this is a great bang for your buck. Unless, of course, you're looking for strictly curvy ladies. Then it's mediocre at best. So, really, maybe they should restart the site or, at the very least, add more curvy content. If not, using the domain just feels dishonest.
If you're looking for a single niche site dedicated to curvy, barely-legal babes, then this isn't the site for you. The fact is, Teen Curves stopped producing content a long time ago. What your membership will get you, though, is a taster's choice of teen-themed porn, ranging from school-girls to feisty chicas and nubian princesses. Not exactly what the tour promised, but a pretty nifty deal, nonetheless.
Click here to visit Teen Curves