Vintage Cuties
[
Visit site
]
Allow yesterday to bring an erection to you today. Marvel the magnificent work these web-master's have accomplished in bringing you a piece of the past
Complete
review published on 08.11.2018
[v]

Intro promises

(5)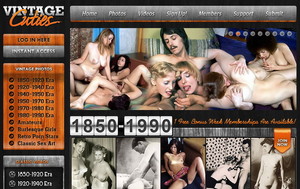 Click here to visit site
Vintage Cuties is here is to share with you their years of research in the field of vintage XXX and erotica. A promise accompanies this site that everything is for real, none of the pictures or videos have been duped in any way, not shot in recent time and then made to look older. This is real. This site is categorized by era in photography and MPEG movies that run up to 30 minutes in length.
[v]

Content Amount

(4.5)
Last updated on October 30, 2018.
Videos:
Over 1325 videos about 10 minutes each (download and stream)
DRM: No restrictions
+ Full Movies
Pictures:
Over 3980 galleries about 100 pictures each
+ Fullscreen pictures
[v]
Prices
Last updated on October 30, 2018.
$14.95
29.95
/ one month
(recurring)
[v]
Sample Videos
[v]
Sample Galleries
[v]

Impression

(4.5)
Open up these pages and youíll forget all about the traffic jam you just made your way out of, the hustle through lunch that caused heartburn, and the phone thatís ringing in the background. Youíll find images and videos here that show you sex at itís best. No photography tricks to highlight their hair, or an airbrush stroke to remove a scar, these ladies (and men) inhabit this content in their every day true form, with libidoís in tact and a flow of exhibitionism coursing through their veins. This is an earlier time of erotic that will just leave you in a state of awe.
The time of taunting spans between 1850 to late 1980 and everything here is exclusively shown for
Vintage Cuties
members. They use a certain word in describing what this site holds, and I couldnít have chosen a better oneÖ.CLASSIC. Years ago when women were tall, slender and held a stance that was equal to any model, even when standing on the city sidewalks and talking to neighbors, a prim and proper look that made every block seem like the one that the Leave It To Beaver family lived on, they never shed a hint that what might be going on behind closed insulated drapes would be the clicking of a flashbulb catching moments of fornication. And the best part of this site is it goes much further back in time, when rounded, ample bodied women were considered the epiphany of sexual desire. So what if their hips were a bit more full, that also meant their breasts were larger which made most nostalgic men lick their lips and ready to bed these beauties. Their corsets and pointed cupped bras held the milk factories that werenít enhanced by any type of surgery. They have captured it all here on this site.
With their wavy hair that you can almost see being done by heavy irons, a full mound of pussy hair and in many cases long under-arm hair as well, these ladies are bringing you the films that they probably never dreamed would survive through another century of time. They were probably hidden in an old box, stashed in the back of an outside shed, to be brought out maybe only to masturbate to, but now, they are coming back to life through this site to arouse you. There are daily updates including two new folders of photos each day and within the span of four days youíll get a new movie. If you get tired of stepping back in time here, which I donít know how you would, feel free to check out the bonus area they offer called,
Hairy Pussy Cuties
, I think the title is pretty self explanatory. I mentioned above that this site also holds stories, and it does, 14 long tales that will keep the midnight oil burning while you read through and slowly stroke the out-cum of the words.
The images are laid out nicely in categories and they even give you the count as to how many pics you will find within these areas. The largest being the time frame of, 1940-1950, there you will find 7,393 images, and that is just one of the folders. The timing begins its tease in the years of 1850-1920, with nearly 700 pictures for this span of sexual sin itís amazing how horny and uninhibited these people were. I canít call them models as I do for other sites, because that just doesnít fit, and once you see this site youíll understand what I mean. These women were doing what they wanted/needed/desired to do, to express their sexuality and the fact that they were doing it on film was even more of a turn on for them, it was a time of innocence lost and thanks to this site, itís the beginning of a stroll back in sexual splendor for us.
Since the roaring 40ís seem to be a time of sexual explosion, I thought we would check out the images there. You have your choice between black and white and colored pictures as well. Nah, no colored pics for me, I want the feel that this site is all about, the age, and the erotica, so letís check out the black and white shots. Now we find three more babe breakdowns which are labeled, ďCouples and MoreĒ, ďHard-coreĒ, and ďSingle Posing.Ē Ok, how many of us DONíT want to know what was considered hard-core all those years ago? Thatís where weíre going! Well, Iíve seen a lot of pornographic material in my lifetime, but I an honestly say Iím really shocked by what Iím finding here. I guess I never really thought much about sex being so kinky in years of so many before I was even born, but these ladies were little horn dogs for sure. Thank you
Vintage Cuties
, this is great!
One image in particular that caught my eyes was a nice looking woman, laid back, legs open, some sort of facial mask on and what looks like it might have been a broom or mop handle being used as a dildo! I guess they didnít have Adam and Eve stores back then for personal supplies. Oral sex must have been the big, ďhide it if you do it, because itís dirtyĒ no-no for this time span because there is a lot of shots covering that act. And believe it or not, youíll find a huge amount of lesbian acts as well. This is just so cool, I canít even begin to stress how much fun Iím having with this site, to see the hair-doís and remembering how young pictures of my Mom sported those same type of styles and wondering if she was as ornery as these ladies were. The full tits are a turn on, just knowing their real, seeing them fall to the side as theyíre being ridden and not standing straight up, compliments of a plastic surgeon. This is great folks, you are going to love it! Ok, Iíd better get to the fact that the thumbs are nicely sized at, 100x133 and the images have been preserved so well. Enlargement doesnít bring it full screen but you do get a great close up at, 438x433 pixels. There is a slideshow effect offered through this site as well, so youíve got hands-free action available on this site. You have 7 categories for images, and those areas holding approximately 6+ pages of more images broken down to such a fine art that the thousands of pics promised in the tour area, is definitely true. In fact, I would have tooted my horn a lot more on the amount of image content here than they did. Itís awesome.

Iím tipping my hat to the ones putting together the videos for this site. It could not have been an easy task which tells me these folks really care about their members. These movies are SO old and so fragile, and yet theyíve beautifully brought us the action right out of the good olí days. The movie I chose was from 1920, called ďBallerinas Love.Ē Some of the lighting is a bit dark in this choice, but, letís remember what weíre watching here, because to me, itís remarkable. The MPEGís open in separate windows and they are available in streaming or downloadable formats, which is a nice touch. You have a chance after watching the movie to rate it, so donít forget to let these folks know how much you appreciate their hard work. Ballerinaís Love from this site brings you a look into how the house help of aristocratic women of these timeís were really ďmadeĒ to order, they didnít just dust furniture but they also cleaned all cavities.

There is a full screen option to these films on this site, however, I would dissuade you to engage that for the really old movies, it distorts them to a point where you really canít enjoy whatís going on Ė on the screen. This flick clip that I chose ran 5:38 in time, and nearly every minute of it was some hot to trot action that just leaves me shaking my head and giggling over how slutty these back-in-time beauties were. The video size for all of the movies that Iíve checked out has been 320x240. The MPEGís play nice and quick and thereís no problem with navigation in finding just what you are interested in watching. Your viewing options also include QuickTime format, just so you know. Also, youíll find approximately 140 movies to this site and none of them include clips, they are all full length, ranging between 1 minute and 30 minutes, and youíll want to enjoy them all. The pictures actually were a bit more confusing, not bad, but they have broken everything down so neatly for the viewers, sometimes it feels like you are going from one page of choices to another before you ever get to the really good stuff. But, Iím not complaining, I think itís a personal touch that adds to the quality of the site.
[v]

Conclusion

(4.5)
This vintage site took me back in time in a hundred different ways. Yes, it was arousing and invigorating, but at the same time it was so lovely and breathtaking. The bodies were flawless it seemed, and just knowing This is a site that I would recommend to one and all, you find yourself getting lost in the era and feeling a connection that is confusing and yet euphoric.
Click here to visit Vintage Cuties