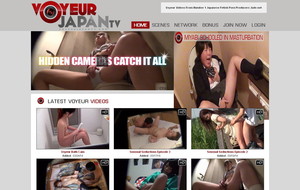 Click here to visit site
Voyeur Japan TV combines the best of hidden bedroom antics and full-blown public displays, complete with innocent pedestrians, for what is surely one of the best Japanese voyeur sites on the net. Members are guaranteed frequent updates, HD videos, and access to some other killer Japanese network sites as well.
This site launched in 2013 and has been pumping out 4-6 new updates every month since. So, if you are worried about reliability, don't be. Your investment is sound.
What's more, even those 2013 videos are available in 720p HD, and the added benefit of a mobile format — which now that I think about it is ideal for those of you who want to try a little exhibitionism of your own.
The playback quality could, admittedly, be better be a lot better, but I think that not only is this somehow appropriate given the crude style of shooting necessary for some of their more daring scenes, but also because they just do such a great job of constantly heightening the hotness and tension. Also, the downloads are quite fast, averaging slightly under 4 megs-per-second.
This is more apparent in the outdoor sex scenes. You get a great view not only of the public sex, but also of the — usually oblivious — passersby. This reminder that these babes could be caught at any moment and face some rather harsh consequences, for me at least, put these scenes over the top..
If you are having similar hopes for the photo galleries, then I have some terrible news for you. First off, they aren't actually photos they're screen caps. Also, you usually get less than 50 in each gallery, and there are no ZIPs for full gallery downloads, making Saving that real keeper set a major pain in the ass. Bummer.
Also, clicking the "photos" button on the main menu simply directs you to every photo set on the network. So, since there are really no browse-tools to speak of, isolating the Voyeur galleries becomes quite the chore. And that's just one issue among many with this overly simplistic layout.
That having been said, I think throw in enough twisted Japanese goodies to make up it. Your membership includes access to
Piss Japan TV
and
Sex Japan TV
, which when combined with this site totals out to over 500 galleries and just under 600 videos. You also get 12 bonus movies, which are feature length and available in 720p HD, too.
Voyeur Japan TV has built a killer selection of exhibitionist/voyeur videos ranging from "private" bedroom masturbation to outlandish public sex acts, and you can only expect it to grow if they stick to their current fast-paced update schedule. Also, members get access to two other twisted Japanese TV sites, and a dozen feature length porno films, too. And that's one heck if a deal if you ask me — particularly when taking into consider the current price of admission. Highly recommended.
Click here to visit Voyeur Japan TV