A hot dating site for guys who like guys, for fun, friendships, hook ups; whatever you want this site has a large community waiting to greet you.
Complete
review published on 08.06.2017
[v]

Intro promises

(4.5)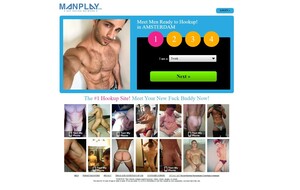 Click here to visit site
You can sign up for free at Man Play a dating and hook up site thatís already got a large following. There are lots of guys with profiles and pics to check through, you can login and then start exploring the many man already in the community, and you should be able to find someone near you too. There are tips, interactive options, you can customise your profile and use the detailed search engines that run on the site. For the hardcore stuff, you will have to sign up and pay.
[v]

Content Amount

(4.5)
Last updated on October 05, 2017.
Dating:
Members amount: 10000
Free Basic Membership
Services Offered:
Local search, Photo personals, Instant messaging
[v]
Prices
Last updated on October 05, 2017.
free / basic subscription
[v]

Impression

(3.5)
The first things that assaulted me when I logged in here were adverts, and then I found some more, and then, while browsing the pages, I was hit by even more. Little boxes off to the side, full screen adds popping up and the same ones coming back at me. It took me a while to get to my profile page because they kept trying to sell me things and, to be frank, that almost put me off going any further. Whether these disappear when you have signed up and are a paying member or not I donít know, but you will need to be prepared for them when you take the free membership.

OK, thatís out of the way. I was first asked to upload a photo because most guys only respond to those who have photos. Thatís what the site said and I actually agree with that. With dating sites, the more you put in the more you will get out. Itís no good just inventing a username like BiggestDickEver123 and then hoping someone will take the bait. Be honest, take time and if you are serious about meeting other guys for fun, then put in as much detail as you can.

Thereís a sensible layout to this site, and the main menu takes you through the functions you need to get going. So, head for Home on the left (and a pop-up advert will appear so get rid of that) and from here you can edit your profile, see who is on line, see your recent matches, get some hook up tips, see featured members, and find loads of adverts around which are some neat interactive features. There is also a link to Active Cams and you can see a pic of who is live on cams right now. This turns out to be another link to the plug-in live cam section of Man Play where you can also register for free but where you will have to pay more to fully access.
Next on your menu is the Mail area where you can check messages, and then thereís a tab for Recent Activity. Here you can see who has been looking at your profile and see if you are on anyoneís friend list. Another neat set of interactive options. You have an Account Options area where you can upload videos and pics and change various settings, and then the all-important Search area comes next.

Searching on dating sites is probably the first thing you will do and I bet you will want to see photos of the guys. So, upload your own pics so they can see yours! Here, after getting rid of the pop-up adverts, I found lists of the siteís most popular men and couples, I found various ways to search and there was an advanced search engine which was really quite detailed. The site tells us there are over eighty million guys already signed up (really? Are you sure? Thereís no real no way of checking that) and some of the images that appeared on the top guy list suggested model photos have been used. There are plenty of obviously amateur ones as well, but quite a few where you stop and think, Ďno, he's not realí so thatís something to watch out for. I went for an advanced search and a pop-up full page advert appeared, so I deleted that and carried on. You have to be specific here, I couldn't just select a country, I had to then take a region and then a city, which as a bit of a pain at times, but if you want to be specific, you really can. The results you get are also pretty detailed though a lot of guys seem to only want to tell you their details Ďlater.í

Finally, though probably not finally as there is loads to explore in here, there is a link into the XXX Theatre. This area (which I could access with my Gold Membership) contains links for all kinds of other fun stuff. There are articles about dating and heath, swingers and stories, and lots of things to check out. There are also hardcore videos in a tube style set up, which is a plug-in feed. The first one it showed me was a straight movie. Disaster! If the adverts hadnít put me off by now then this surely did.
[v]

Conclusion

(4.1)
To my mind, Man Play needs to sort out some fundamentals. It has an excellently interactive interface and great search functions, members can add in loads of detail and this will really help you find other guys. But with straight movies playing the XXX Theatre and with so many relentless adverts popping up and flashing and sliding in and assaulting your eyes, I was very tempted not to go much further than the first couple of pages. Try it out, see what you think, it is, after all, free to start with.
Click here to visit Man Play