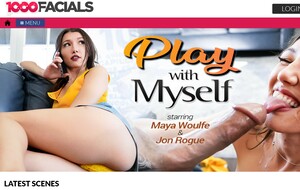 Click here to visit site
The tour page at 1000 Facials is made up of a collage of its latest victims, their pretty faces, soiled with the semen of men they hardly know, a testament to its depravity. You might even recognize some of them. The cast list includes, among others, Bree Olson, Kissy Kapri, and Sasha Grey. Aside from all that sticky goodness, members are promised weekly updates, high-definition video, and full access to the Blowpass network.
1000 Facials
has been around for over a decade yet it has somehow managed to not grow stale. As I traversed its archive of 596 episodes I felt as if I were back in Professor Hemming's biology course learning about microevolution. The earliest updates were a bit, shall we say, rough around the edges. They had that casting couch style, where the girl is interviewed/grilled before invariably having her face covered in jizz. As time went on, production values went up. Crude handheld camerawork made way for slick filming techniques, amateur performers were gradually phased out as bonafide porno stars began taking those disgusting facials in their stead. The biggest change of all, however, was rather a recent one.
The latest batch of updates have abandoned that casting couch angle altogether, opting for a more traditional, scripted style of pornography. The gory facials are still there, true enough, but instead of girls seemingly pulled from the streets who know full well they are about to be filmed engaging in these despicable acts, we get full-blown fantasy narratives where beautiful Russian immigrants take faces full of spunk in exchange for green cards and roommates suck fat dicks in lieu of rent payments. Yes, things have taken a decidedly cinematic turn, complete with artsy camera angles and quirky voiceovers informing us of the character's inner turmoil. Personally, I don't mind these changes at all. Hell, it is kind of like getting two sites for the price of one.
Model quality and camera techniques aren't the only thing that's improved here throughout the years. The latest updates have stellar playback quality, and in addition to five good-looking SD selections, are available for stream and download in 720p and 1080p high-definition MPEG-4 files. On a related note, download speeds aren't too shabby, either. The last scene I grabbed clocked in at a rate of 10 megs-per-second.
The photo galleries date even farther back than the videos, so there are quite a few more of them. Like the videos, though, they have noticeably improved since their humble beginnings. Resolutions have remained the same at a sizeable 1,280 x 1,920 pixels, but what once was only a few steps removed from idle snapshots taken by some pervert for his spank collection has been replaced by well lit, carefully crafted images showing hardcore stories taken to their delightfully gooey conclusions.
The only real flaw I could find here, if you can really call it that, is that not all of this content is available in HD. The site launched in late 2005, but the first HD video was not posted until January 11th, 2010. As a consequence, the best you can do for those first 180 or so episodes is 160p and 360p SD playback quality. But seeing as how this is true of damn near every site over a decade old, I think we can let it slide, don't you?
Aside from that, I suppose the navigation may be leaning a bit too far toward the simplistic side. A few more browse-tools here and there certainly wouldn't hurt. Perhaps they might even consider filling out some of those poor girl's model pages while they're at it. Surely they've taken enough loads in the face to be worthy of a bio?
One thing I think we can all agree they were on the right track with, however, was giving members bonus access to a blowjob oriented network. With sites like
Mommy Blows Best
and Throated, Blowpass seems like the ideal place for members of this site to spend their time between updates.
It may have started as one man's lofty goal of jizzing on the faces of 1,000 unsuspecting women, but 1000 Facials has raised that bar to heights likely never dreamed of by its founder, shifting from mere amateurs to bonafide porn stars and improving its production values tenfold along the way. The transformation was truly a wonder to behold, and for the reasonable price of $29.99 per month, you can witness it yourself. This journey isn't at its end, either. Why, with weeky updates being churned out like clockwork, you might say it's just beginning. And to further sweeten the pot, they've thrown in some gooey extras, compliments of the Blowpass network.
Click here to visit 1000 Facials