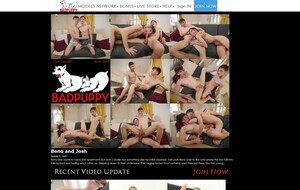 Click here to visit site
Luckily for us Bad Puppy has divided its menus up so that the huge (and I mean huge) amount of content available is much easier to find than it first looks. Youíre in for live sex sites, streaming videos, downloadable video clips and scenes, access to almost 60 other sites and a wide range of viewing options. There are community pages, news and reading material so you get everything under one roof.
Iíve looked around this site before Ė actually I have looked at some of the contributing sites and concentrated on their material, so now itís time to see exactly what the main site - the umbrella, the kennel that houses everything else Ė call it what you will, itís time to see what
Bad Puppy
itself actually has to offer. I remember, in those other sites, being somewhat overwhelmed by all the content and at times I got so lost I had to switch off and start again. So I am pleased to find the actual home page quite straightforward.
Check the top menu to familiarise yourself with the symbols it uses and you will see that there are six main areas. As I know for a fact that the content list here could take me days to get through Iíll give you a quick summary of each of these areas in turn, as they appear.
Home:
This page contains the update news and previews so you should click into this page each time you log in to see whatís new. It also suggests pages you may not have seen yet and lists some of the contributing websites. The newest videos and models are also listed to the left. This is your catch up and check in page.
Pictures:
Is the next area. Here you will find a page that looks similar to the home page but which then lists all the 45 different sites, galleries, pages and areas within the Pictures content. Some of these are new and exclusive galleries where you will find some interesting treatments of some standard photo sets. (Iím looking at ĎAthensí here.) You will also find some well known and loved feed sites Ė and here I am looking at
Cruiser Boys
. You will, strangely, also find links to the erotic story collection, video reviews and newsgroups.
Live:
Here you get to link over to 30 sites that bring you live cam action. I was actually surprised at this point. Normally when I get all excited about viewing a live site I find itís off the air or only has recordings of past shows on offer, or no one in front of the cam at all. My fault for living in Europe and not being in the right time zone perhaps? But at the
Bad Puppy
list of live sites I actually found some that did what they promised for a change. Bravo! Resisting the temptation to stay for hours I moved on to check outÖ
What can I say? Itís huge in there and youíll need to be a member for a considerable time to get everything from this site. And with the regular updates you will never be short of something new to enjoy. Itís hard to give you the proper feel for the site and the content is mixed and varied in terms of quality, but youíll just have to go and see for yourself. Itís a massive den of delicious iniquity which gives you great value for money.
Click here to visit Bad Puppy