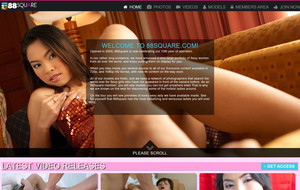 Click here to visit site
I've heard of Times Square, Trafalgar Square, even Tiananmen Square, but before today I was totally unfamiliar with 88 Square. Instead of attracting flocks of tourists to gaze upon world famous architecture, this attraction gives visitors the opportunity to take their dicks round the world on a whistlestop tour of salacious delights. Or, more specifically, kinky Asian beauties. The tour promises over 600,000 photos and 4,000 hours of video featuring 3,200+ "exotic models." And with daily network updates, those numbers are sure to grow. It almost sounds too good to be true. So, let's have a look inside and see for ourselves, eh?
On that note, there's also a lot of diversity when it comes to the actual quality of these productions. Some seemed quite sharp and professional, while others were darker, grittier, and looked, frankly, like they were shot in someone's bedroom. So, if you're hoping for consistency, this probably isn't the site for you. If, on the other hand, you want a variety pack of Asian smut, I can't think of many sites that would do you better.
Video resolution and format options actually are quite consistent, though, and have remained pretty similar since the site's inception over a decade ago. Each scene can be streamed on the site(in only one resolution, sadly) or downloaded in your choice of several mobile files, as well as a sharp looking 720p HD MPEG-4. The files downloaded quite fast, clocking in at just over 2 megs-per-second, which more than made up for their, at times, quite large sizes.
The photo galleries were a bit more consistent when it came to overall quality. Admittedly, it's not the most professional photography I've ever laid eyes on, but most sets are well lit, feature vibrant colors, and look very sharp and focused. Even the earliest of the sets sport a respectable resolution size, and the latest images are available in nicely sized(1,920 × 1,279 pixels) JPEGs. To be honest, I would have liked to have seen a few more options(multiple resolutions and a slideshow would be a nice start), but overall I was quite pleased with what I found.
It's also worth noting that this is one of those few sites whose "live cams" link actually is relevant to their own material. I was surprised that, after clicking it, I was taken to a page housed on the same domain. Admittedly, you do have to sign-up for this site, too, but if you're interested in live, Asian cam girls, it's definitely worth a look.
Speaking of which, I think what impressed me most about this site was its model roster. I noticed several noteworthy Asian porn stars in the mix, but for the most part we're treated to a lot of unknowns. Many of these girls would be right at home doing "legitimate" modeling, but I also dig the fact they've thrown in several girl-next-door types to satisfy that amateur craving that, for me at least, comes calling at least a few times a month.
And since these girls are so great, I think they deserve, at the very least, to have a bit more paid attention to them in their model pages. I realize with 3,000+ models that's quite a bit of work, but it saddens me to see some of these pages are completely devoid of information.
One other issue I noticed was that, despite the fact they've been updating multiple times a week since our last review of the site, the numbers haven't changed all that much. Which makes me wonder if they're deleting/rotating content. It's honestly hard to say, but I'll keep an eye out.
But on a more positive note, your membership includes access to several bonus sites, many of which featuring Asian themes of their own.
Asian Sex Club
and
Filipino Fuck
alone should do plenty to satisfy your urges between updates. And if your tastes go beyond that of exotic beauties, there's plenty of other sites that should tickle your fancy, too.
What can I say? If you're after hot Asian porn, you can't go wrong with 88 Square. Their archive is massive, filled with hardcore Asian action, and it'll only continue to grow with updates coming in damn near daily. Factor in the bonus sites(many of which, by the way, seem to be focusing on Asian gals, too) and you're getting a whole hell of a lot of bang for your buck. Admittedly, content quality is more inconsistent than I'd like, and the addition of 1080p HD and maybe a few more resolution sizes for their photos would be a nice touch, too. All in all, though, I just can't recommend this one enough.
Click here to visit 88 Square