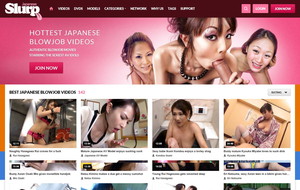 Click here to visit site
The tour at Japanese Slurp is certainly eye catching, if nothing else. It's covered with eye-catchingly slick imagery of officiously attired Japanese cuties engaging cocks — often several at once — and and proudly sticking out tongues that are covered with thick wads of ejaculate. But they take it yet another step further, promising to provide you access to "Over 15 of the hottest sites," with up to 2,765 videos, 7,992 models, and over 550,000 pictures!
Often, I'll browse the tour of a website and get quite excited, only to be letdown by its actual contents and design. In this case, that couldn't be further from the truth. As soon as you enter the members page, you're greeted with slick looking layout, one that has a wonderful high-tech flair; the vivid imagery, fancy java-based menus, and the abundance of eye candy combine to make a site that looks quite modern. Appropriate, I think, for a business who is based in a decidedly tech-based, modern culture.

I also noticed they've allowed the user an ability to customize the site, tailoring it to his or her specific tastes. While this is currently limited to changing the site's layout color(from black to green, brown, grey, or blue) I get the feeling they intend to expand upon this, and it's definitely a step in the right direction — for all sites.


The main focus of the site, as the name obviously implies, is Japanese babes sucking dicks and swallowing gooey loads of cum. And that's readily apparent upon even a cursory examination of the content. The site is practically wall-papered with women slobbing on knobs(albeit extremely small ones) and they appear to be enjoying their work.
I really appreciate the fact that this site uses of authentic Japanese girls. Many sites of this nature choose to use Japanese Americans, which is fine. However, I feel the use of women actually native to the country not only adds a great touch of authenticity, but a high dosage of hotness, also. The only real downfall to this, that I can see, is that, as far as I can tell, not a single word of English is uttered in any of these videos. This is, admittedly, a bit frustrating, and certainly left me scratching my head more than once whilst wondering what they were saying. But perhaps that's the price we have to pay for viewing the "genuine article."
I checked out the video section first. There are currently 1390 episodes, which isn't the largest number, but the site appears to still be in the early stages of its development. Videos can be both streamed and downloaded. I found the streaming video to be excellent, with scenes loading quickly with little to no buffering issues. They even included a nice "scene selector" gadget, with large thumbnails. This definitely "cums" in handy when you're in a hurry to get to the real action.
For direct downloads, you're given three bandwidth-friendly format options: Low(MP4), Normal(MPEG), and High(AVI). To be honest, I didn't seem enough of a distinction between the Low and Normal options to warrant their presence. "Normal" definitely was more clear, with better encoding, but I thought the usage of the exact same resolution for both was a poor choice. Perhaps in the future they should consider upgrading their medium quality option a bit.
The scenes videos themselves were quite hot. One thing I particularly enjoyed was how many scenes were shot in the P.O.V. style, often descending into straight-up Gonzo-style shoots. If you're into static camera positions, slick editing, and fancy scores, this probably isn't going to please you. But, hey, sophisticated cinematography and certain niches of porn just don't mix.
By current count, there are 0 galleries, containing an average of around 20 images each. They look to be screen caps, but not your typical postage stamp, grainy variety. They actually sport a large resolution, and look damn good, too. Hell, if it weren't for the tiny
Japanese Slurp
watermark, I'd give these pictures a solid B-.
Your membership also gives you access to 22 bonus sites, which are actually quite related, content-wise. They're all Asian-based, and there's even a few anime joints thrown in for good measure. I particularly enjoyed
TokyoBang.com
and
JCosplay.com.