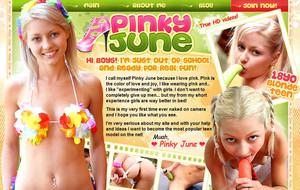 Click here to visit site
Pinky June is an uninhibited 18 year old blonde knockout who, luckily for us, decided to bare all and make her pro debut in the porno biz. She has a very whole, all-american look that's worth its weight in gold. Not only that, but she plays up her youthful features and innocent look with pony tails and school-girl outfits. It makes for a stunning contrast with the promotional shots where she's smoking cigarettes and sucking cocks. To top it all off, you'll get to see it all in high-definition video. Or, if you're feeling a little adventurous, watch it on your mobile device at church.
If you're into the whole hot airhead routine, then you'll fall head over heels for
Pinky June
. She really plays the whole ditzy dame persona up to the hilt. While I wouldn't go as far as to say she's mastered the whole charade, she's pretty damn good at it and shows tremendous, untapped potential. The important thing is that she's still quite young. The fact she can pass for an underage babe alone makes her immensely appealing to a gigantic percentage of the male population. She pretty much has it all. Sadly, the one thing that holds her back, at least in my eyes, is the language barrier. I'm not sure if she's Dutch or what, but I can't understand a goddamn thing she's saying in these videos. Mercifully, they don't seem all that plot or dialogue driven, anyway, so it's not much of an issue. But it's still a bummer. I was kind of hoping she'd have one of those valley girl accents. I guess you can't have it all.
Besides, watching these scenes I get the impression that lil Miss June is more of a doer than a talker, anyway. It doesn't take someone fluent in German to see that what little dialogue she has is simply a vehicle to get the party started. Not surprisingly, her being young and rebellious, she's willing to experiment. In addition to the more standard stuff like solo masturbation and girl-on-girl, she does some public nudity, smoking, and watersports. I also spotted a lovely shaving video and a couple of cos-play vids, too. Some may see this as a lack of focus, a testament to the supposed short attention spans of today's youth, what with the the hopping from niche to niche with each scene and gallery. I just hope she can keep it up.
Staying in line with the main members page, the video pages are straight forward and to the point. You get a synopsis, massive resolution embedded flash player, and three download choices: HD Windows Media, HD MPEG-4, and Mobile. The videos looked great, and the high-definition quality really shined through on the close-up shots, showing the genitalia in stunning, lifelike detail. I noticed the sound quality was a little off in some of the videos, almost as if they were using on-board sound or something. It's not much of an issue, though, especially with that whole language barrier thing. This is only in the earlier episodes, anyway. In the newer ones you can hear that meat flopping like it's happening right next to your skull.
The photo galleries, too, share the simple setup. There's no fancy viewers or flash-shows, just your standard row of thumbnails format and the option to download the whole gallery, if you so wish. But they've hit the mark where it counts. Just like the tour pledged, these photos are high resolution and look pretty goddamn good. You'll also have plenty of them gaze upon whilst abusing your poor penis since the average count for a gallery 'round these parts is 180 pictures.
In addition to being able to access loads of extra video feeds, members also enjoy 100% full access to five bonus sites:
Little Caprice
,
Sabrina Blond
,
Kiki18
, Maggie Loves Dolls, and
Kaira18
.
Though Pinky June's site may not have all the bells and whistles or much of an interactive spin, I think her stunning looks, youthful exuberance, and willingness to mix it up — as seen in her many scenes and galleries, more than makes up for it. At the end of the day it's about seeing that tight young pussy ravaged, and in that regard I think the site it's safe to say the site is an overwhelming success.
Click here to visit Pinky June