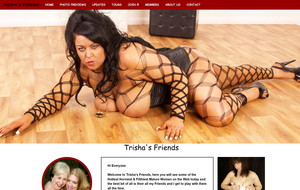 Click here to visit site
Looking for a little MILF and GILF action? Do you prefer your gals to be freaks in the sack? Then you really do need to meet Trisha`s Friends. Self descried "hottest, horniest mature women on the web" and "dirty sluts," these older hotties, not surprisingly, get up to all sorts of naughty business.
If you've ever been to a swinger party, then you probably already have an idea of what this content is like. This is footage and photographs of real, everyday people experiencing pure bliss together. A great deal of the content seems to focus on gal-on-gal action, but it's not at all uncommon to see one or more older gentlemen come into the fray. And, not surprisingly, there's a variety of sex toys in the mix, too.
It's not all just indistinct orgies between couples, though. In fact, some of the content goes off into the realm of fantasy, using scripted dialogue and wacky themes. A great example of this is the "
Dirty Doctor
" portion of the site. In these episodes we see a grandfatherly figure decked out in a white lab coat and stethoscope practicing a rather unorthodox form of medicine, indeed. I mean, I'll admit that I don't go in for a checkup as often as I should, but somehow I doubt things have changed so much in the last few years that medical professionals are now shoving cucumbers up the asses of their patients while carefully trying to make them cum.
But although Trisha`s partner`s in crime vary wildly in their particular kinks and modus operandi, some things remain consistent. For example, most of the video content was upgraded to high-definition(720p) around mid-2014, and run times and gallery counts have remained fairly static since the site's inception. So, you don't have to worry about one particular "friend's" content suffering. All of Trisha's company are treated equally -- well, at least in terms of resolutions and raw playback quality. I suppose those guys in the gimp masks being verbally and physically humiliated feel anything but equal.
Unlike their video brethren, however, the photo galleries haven't really received any sort of upgrade. The latest images on the site share the same modest resolution(900 x 599 pixels) as the very first to be uploaded on the site. So, if you're looking for ultra high-res shots, this probably isn't going to be your cup of tea. In their defense, though, they makeup for the lack of polish with a large quantity of images(on average over 100 images per gallery) and a level of unbridled raunchiness that, sadly all too often, only comes with age with experience.
One of the site's only real drawbacks is the fact that there's not a lot of options here for viewing the content. As I said, the galleries come in one resolution only. Similarly, you only get one format and resolution for both direct downloads and streaming.
I could also see the lack of more advanced navigational tools being an issue as the site continues to grow. Currently, however, I think that separating the content by "friend" is more than effective enough. But how long it will remain so, I cannot say.
I had a great time watching Trisha`s Friends acting out their wild, often twisted fantasies with each other. I also got a kick out of its somewhat outdated web design, which actually felt pretty damn fitting considering it's a site run by and filled with MILFs and GILFs. Admittedly, there's not as many bells and whistles here as many of the more modern sites, but I think this is more than made up for by the unbridled filthiness on display here. So, if you're into older women and your tastes run towards the more deviant end of the hardcore spectrum, I cannot recommend this site to you enough. Great stuff.
Click here to visit Trisha`s Friends