When it comes to sexual dirtiness, there really are no limits as to how that all comes to be, and these girls are proving that for you.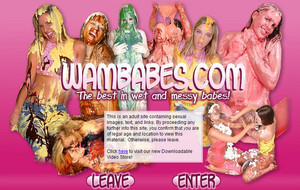 Click here to visit site
I havenít seen too many sites focusing on this type of fun, but from the smiles on their faces and the horniness in their eyes, maybe it should be investigated a bit further. Wam Babes is all about getting wet and messy, and having it all turn extremely sexual quickly. They promise from this site through pictures and videos youíll get pies, slime, oil, eggs, and more used to get the gals dirty.
$3.5 per video
$9.99 per video
Click here to visit Wam Babes