Chaturbate.com
[
Visit site
]
If it's a cam show you're after, why not test drive one of the most popular streaming sites on net, chalk full o'models, absolutely free of charge?
Complete
review published on 01.18.2018
[v]

Intro promises

(5)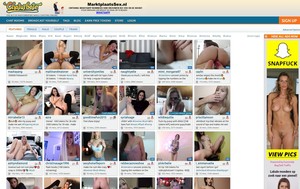 Click here to visit site
Chaturbate, in case you were wondering, is a portmanteau of "chat" and "masturbate." Or, as the site itself describes it, "the act of masturbating while chatting online." And one only need spend 5 minutes browsing the site to find out that that is exactly what everyone on the site is up to, myself included. But don't just take my word for it. Signing up is free, no credit card necessary. All you need is an e-mail address and a willingness to mingle with debauched voyeurs and exhibitionists.
[v]

Content Amount

(4.5)
Last updated on January 24, 2019.
Web Cams:
10000 models, online at a time: 566
Frame Rate: 60 fps
Options:
Sound, Text Chat, Broadcast Shows
[v]
Prices
Last updated on January 24, 2019.
$19.95
/ one month - credit card only(includes 200 free tokens)
(recurring)
$10.99
/ 100 tokens
(non-recurring)
$20.99
/ 200 tokens
(non-recurring)
$44.99
/ 500 tokens
(non-recurring)
$79.99
/ 1000 tokens
(non-recurring)
[v]

Impression

(4)

Throughout the years I have paid the occasional visit to Chaturbate, always via a link to a stream some friend or another deemed particularly tasty and to which I, more often than not, couldn't help but nod — sometimes even ejaculate — in agreement, But despite that, the site would quickly fade from my memory until that next naughty link was sent. As I sit here now, staring at the main page, which has a layout that is better organized and filled with better looking performers than a lot of pay-only sites I could name, I can't help but shake my head in frustration at the thought of all the fun I've been missing out on.

The first thing that truly jumps out at me when I look at this page is that the default "feautred" tab alone currently gives me 2,666 streams to choose from. The "females" tab lets me choose from some 1,200 odd gals, running the gamut in terms of age, shape, and ethnicity. I found similar numbers when browsing the "male" section, and though the numbers were admittedly a lot lower in the couples, trans, and spyshow tabs, there was still more than enough of a selection to keep me happy. And this is all happening, mind you, on a Monday night. Not bad.

The rather appealing aspect of this site is that I sat there for hours, hopping from stream to stream, witnessing all different manner of debauchery, without even spending a dime. In fact, you could do virtually the same thing without even signing up, with the only caveat being that you won't be able to enjoy the "free chatroom" aspect of the site. But if you're in the mood for pure, unadulterated voyeurism, I suppose communication isn't essential, anyway.


But if you do plan to take that next step and start actually interacting with these models, you would do best to take the next step and invest some of your hard-earned dollar in the site. You could just simply purchase some tokens, which at the moment for the entry level price of $10.99 per 100. Like most sweet things, though, they get cheaper if you buy them in bulk, and you can save damn near 40% by purchasing 1,000 in one go for $79.99.

You could also just purchase a $19.95 monthly membership, which in addition to giving you an ad-free interface custom chat options, and the ability to private message, also includes 200 free tokens, which would have costed you $20.99, anyway. Personally, I wouldn't give a rat's ass about those extra features, but if you're just looking to test the waters with a few tokens, this sounds like your best bet.

But what am I going to do with all of those tokens, you ask? Well, for starters, they can come in handy in those initial "free chats" if you want to tip your favorite model. In addition to the warm and fuzzy feeling you'll get from knowing you're helping support someone who has entertained you, you're also a lot more likely to be able to talk them into doing whatever peverse act happens to tickle your fancy.

Where things really start to get exciting — and expensive — is when you get into the arena of the private chat. There you will have the model's full attention, free of the distraction of all those other horny bastards in the main chat, and with a lot more way sway in what you ask them to do.

And thanks to the rapid development of twisted new technologies, if you pick a model with the right gear, your interaction can go beyond mere verbal requests. For instance, of the hot young ladies I was watching had vibrators that were tip activated, with the sort of software I've seen available on other cam sites for remotely controlling these gadgets, I'd imagine things can get pretty fucking wild in those private chats.

To be honest, the only real negative I can see here is the same one shared by pretty much every other cam site out there: it gets expensive real damn fast. Let's say you go all out, stretching your dollar as far as possible with that $79.99 1,000 token package. Even then, you're going to be spending somewhere in the neighborhood of 4-8 dollars per minute for your private show(depending on which model(s) you choose), and with every model I checked having a minimum of at least 4 minutes per private show(and some as high as 10), you're out at least 1/4 — $20 smackeroonies — for 4 minutes of action. So, unless you really enjoy extended pre-session edging or just have premature ejaculation issues, you had better have money to burn.

Admittedly, you can still get quite the exciting show going just by pooling tips together with other users in the free chats. Often models will have a whole "tip level" thing set up, with different sexual benchmarks being met depending on which levels(sometimes in increments as high as 1,000 tokens+ at those higher levels where orgasms are guaranteed) are met.

[v]

Conclusion

(4.4)
With most sites I dig, even those that I consider absolutely top-notch, I'd be giving you a recommendation with at least one or two caveats. With this one, however, I can see absolutely no reason whatsoever that you should not give it a try. I mean, you don't even have to enter any personal information, save for an e-mail, to sign up. Hell, come to think of it, you don't even need to an account to view streams, so signing up isn't even a necessary step in the feeling out process. So, by all means, visit the site, strangers play with themselves. If you like what you see, you can always take next, albeit in the long run very expensive, step.
Click here to visit Chaturbate.com