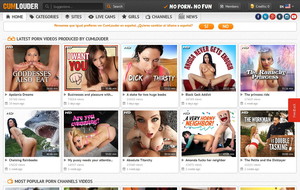 Click here to visit site
Though new to the scene, Cum Louder has already managed some impressive stats. In addition to being stocked with hundreds of the finest Spanish and Latino porn stars, they also boast daily updates, original content, and "extreme speed downloads." Better still, the teaser hints at a very professional design as well as content that, at least to this reviewer, looks out of this world. Of course, tours can be deceiving, so I suppose it's only fair I take a peak at the members area. Meet you there.
There are 17 web sites altogether. Most seem to be of the hardcore variety, and I do emphasize the word "variety." They've covered the classic reality porn angle with sites like
Fucking Van
and Street Suckers. And they obviously had to take advantage of their stellar model roster with Latina Asses in Public. In addition, they've covered all the old standbys like handjobs and extremely painful looking anal sex. My personal favorite, though, is
Spoof Porn
. I was immediately hooked with their Incredible Hulk style porn, complete with an excellent Lou Ferrigno stand-in. I mean, how can you not dig that? Fun for the whole family.
Of course, all the sites in the world wouldn't mean a thing if the content provided was on the low end of the quality spectrum. Which is probably why every scene on the site is available in 720p HD, in your choice of the Windows Media or MPEG-4 formats. Play-back quality was tremendous. So was the lighting, camera-work, and, well, everything else. It's worth noting, too, that each scene is accompanied by a very long synopsis detailing the scenes from start-to-finish. Not to mention multiple rating systems, user comments, and those nifty niche tags I talked about earlier. Throw in the trailers and picking a jerk-worthy scene is practically effortless.
But even HD quality becomes irrelevant if you're filling the frame with subpar models and lousy performances. If anything, though, finding positively stellar models seem to be this site's strong suit. Honestly, there's not a so-so face in the crowd. It's practically all perfect 10s. Odd they didn't mention this on the tour page, but I guess the images speak for themselves. My personal favorite was Leyla Black, and I can't recommend her Fucking After Training video enough. If Spanish babes aren't your thing, though, don't fret. There's a lot of variety going on, not to mention familiar faces:
Alexis Texas
and
Asa Akira
, to name a few.
Unfortunately, every site has its share of flaws — even megasites — and, of course, this one is no exception. The first thing that really jumps out at me is that a lot of the on-site galleries are only show 12 images. You have to download the set in its entirety to get the full count. This is definitely a little odd, but it was probably done for bandwidth purposes so I can't fault them too much. Besides, it sure beats having it the other way around which is something that, oddly enough, seems to be in fashion lately. In a way, it's almost a moot point. The fact that these images are available in a über-high res(3,000 × 1,990) practically cancels it out.
The site's biggest flaw, at least for a decent chunk of the English speaking audience, is the fact that a high percentage of these scenes are in Spanish and feature zero in the way of subtitles. On the more straight-forward, niche stuff this isn't such a big deal. But once you throw in any semblance of a plot, it starts to become a little annoying. An effect which is amplified by the awesome look that these videos sport. But I find that if you focus on the models, which are by the way, without exception, breath-takingly beautiful, you tend to make it through. This method requires only a small amount of effort and a semi-functioning set of eyes.