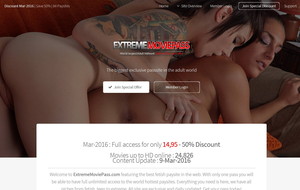 Click here to visit site
Extreme Movie Pass lives up to its name by being extreme both in its niches(think bukakke, trannies, grannies, and gangbangs) and its sheer volume of sites, models, and content. The tour boasts over 6,000 porn stars, 24,000 movies, 540,00 photos,and unlimited access to 84 pay-sites. With numbers like that, we simply must take a look inside and do a little verification. Care to join me?
The layout of
Extreme Movie Pass
is surprisingly basic for such a massive network. Once logged in I was taken to a portal with the network's main 65 sites, as well as 22 bonus sites laid out before me. With such a wide array of kinks to choose from me, I couldn't help but feel overwhelmed.
Fortunately, most sites share a similar layout style, so cross-site navigation was a simple affair. The only notable exceptions to this generic layout approach were
Sapphic Lovers
and Asian Hot Bunnies, but they, too, were quite straight-forward. So far, so good.
When I encounter a network or mega-site ó particularly one of this size ó one of the first things I do is count its content and check to see how many sites have gone inactive. Well, the first thing I realized is that this network truly does live up to its tour page promises. There are a whopping 24935 scenes and 1320 to choose from. Perhaps even more impressive, however, is that only one of its sites(Big Macky) has fell inactive. This is almost unheard of with a network of this size. Hell, even networks half this size usually have at least a handful of defunct sites. Incredible.
Obviously, some of these sites pull more of their weight than others, and some some simply have larger archives due to their age. For instance, their largest sites are
Sweet Party Chicks
and
Fisting Files
. The rest of their sites hold anywhere from 33-475 updates.
I should also add that they continue to add new sites on a regular basis, too. They recently acquired a great little reality site called
French Pickups
less than 2 month ago. Between the regular updates and gradual network expansion, this network looks to be an excellent investment.
But you will notice the network loses a bit of its luster and consistency when you start streaming and downloading its videos. First off, download speeds seem to vary dramatically from site-to-site. Some sites download at a snail's pace of 200 kilobytes-per-second, whilst others clock in at a respectable 2 megs-per-second.
Video playback quality is inconsistent, too. There are a few that provide 720p HD, but the overwhelming majority stick to low-res SD. Also, almost every single site serves up their videos in a lone format for both streaming and downloading. So, don't expect any mobile files.
On a similar note, while the bulk of these sites offer bonus photo galleries, only 13 provide galleries with original content. And just like their video brethren, they vary wildly from site-to-site. For instance, some sets contain as many as 250 high-res images, while others contain only 20-30 low-res shots.
My main gripe about this network would not be the inconsistent quality from site-to-site, though. If they were to concentrate on fixing one issue, I think it should instead be their navigation. Yes, having most of the sites sport similar layouts was a step in the right direction, but they should still add more browse-tools. If there were a centralized search engine, for instance, finding content would be much less stressful. As is, you have to login to each site individually and investigate their contents. Which, as you can imagine, can be rather tedious.
In fact, there is no main network page at all. And since most sites don't even have model indexes, you can forget about scoping out the babes, too. Factor in a lack of video descriptions or centralized update calendar, and you can't help but constantly feel in the dark. It can be fun at first, but after a while it is just a major pain in the ass.
I should also point out that not all of these site are exclusive to the network.
French Pickups
, for instance, can be found on another network. But with such a massive collection, I suppose that is hardly surprising.
With such a wealth of original content, the idea of them offering bonus sites seems laughable ó yet they do. Your membership gives you access to 11 extra fetish sites and 11 "teen and solo girl" sites, too. I highly recommend
Fetish Transformation
and Bunnies Club.
Extreme Movie Pass offers a wealth of niche sites, and amazingly all but one is still posting updates. So, I suppose it is no surprise that there is so much damn content here. I also can't help but be impressed by the sheer number of kinks they cover. Whether you're into vanilla hardcore like anal and big tits or more adventurous activities like watersports and cuckolding, they have you covered. On the downside, there is no centralized network page, so going from site-to-site is time consuming. Also, the bulk of these sites don't offer high-definition content, either. But if you can get over those flaws, you will soon be swimming in a sea of delightful filth.
Click here to visit Extreme Movie Pass