Buckle yourself in for some lessons in lust that will not only get you far in life, but definitely much further with the female gender as well!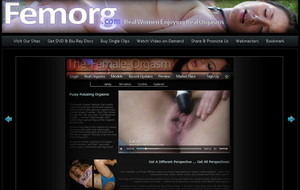 Click here to visit site
Women are creatures to be admired, appreciated, spoiled and pleasured, but to know just how those things should go – to lead into the most ultimate sexual experience, you might want to check out what they're offering on Femorg.com. It looks as though their videos and other such products are for sale on basis of what you want when you want them, no real monthly recurring fee I'm finding.
Pictures:
Yes
+ Video captures
$24.95 per dvd
$29.95 per dvd
Click here to visit Femorg.com