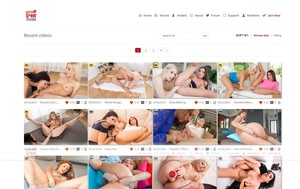 Click here to visit site
The perverts at
Perfect Gonzo
have looked deep into the darkest parts of our psyche and discovered exactly what seasoned smut surfers want next — lesbian fisting movies. At
Fist Flush
, you won't find a male fist or other appendage in sight. These all-girl movies feature beautiful girls self-fisting and squirting all over the place or opening their holes to devour a girlfriend's fist in vaginal fisting and anal fisting scenes. All of these fisting movies come in 1920x1080 high-definition screen size. Despite the high quality, download speeds promise to be lightning fast and make maximum use of your connection speed. Fists ahoy!
Fist Flush
pushes the limits of good taste with anus-stretching deep fisting movies and so much squirting that you need a raincoat just to watch. This is a fairly new site to the
Perfect Gonzo
roster, but there are already 19 movies and 32 different models inside. They update weekly with a new 30 minute fisting video, so these numbers are guaranteed to grow. On the main page of the member's area, there is a "coming soon" video that allows you to watch a preview trailer of the next week's scheduled video.
Each update gives you several choices — play the trailer, download the movie, view the screen shots or view the high-resolution photos. Of course, I went straight for the video and I decided to start with the number one video as rated by the sites members. The video stars Bonnie and Brittney and looks to involve some intense anal fisting and squirt drinking.
Instead of starting off this video with an all too cutesy interview like some sites do, Bonnie and Brittney immediately kick this scene into high gear — aggressively slapping and spitting in each other's faces just to get their (and your) juices flowing. What follows is a fisting tour de force with the girls simultaneously fucking each other with massive dildos and fisting each other in the ass and pussy. Cute, blonde, and devilish Britney sinks her fist wrist-deep into Bonnie's stretchy asshole and then punch fucks her colon until she squirts like a geyser and shoots it into Britney's open mouth.
And if you're to believe the things you hear in a porn movie, this scene is made even more perverse when the cameraman inadvertently drops one last bombshell at the end of the video, revealing that the two girls are cousins. Yes, I said 'COUSINS'!
The scene between Bonnie and Britney has to go down as one of the top 10 nastiest scenes I've ever seen — and trust me, I've seen a lot of shit. The sheer level of perversion displayed by these two girls earned this video a permanent place on my hard drive (no DRM…yay!). My only complaint about this video is that the cameraman occasionally made comments and got involved in slapping the girls or telling them what to do. The video was always best when the camera guy shut up and let the girls do their thing with no involvement or disruption from him.
When it comes to the video technology, this site has tried to cover all the bases and make their videos accessible to as many people as possible. You can select from four video choices, depending on your connection speed and how long you want to wait for your downloads. You can download the full movie as a low-quality MPEG, a medium quality WMV, a high quality WMV, or a high-definition (HD) quality WMV. You can also stream or download shorter 4-minute clips of the movie if you don't want to wait for the whole thing. There are so many choices that there's bound to be an easy way for you to watch. Plus, you can download to your heart's content with no restrictions and no DRM. Gotta love that!

High-definition is definitely the way to go when you're watching these movies. You can definitely tell the difference and I found that a high-definition video only took a few minutes for me to download. If you use a download manager, the download speed is even faster.

Sometimes the best way to see a really ass-cramming fisting shot is through photos. This site includes plenty of those with every update too. There are 150-200 screen shots with each scene and they come in two sizes — low-resolution (1024x768 pixels) and high resolution (1920x1080 pixels). These photos are actually quite clear and very good quality for video screen captures. In addition to these screen captures, there are also 30-40 amazing high-res photos with every scene. These photos are 1500x1000 pixels and so high-resolution that you can see the lube dripping off a stretched sphincter. Both the screen shots and the high-resolution photos can be downloaded as .zip files to save for your personal library.
The fisting inside this site is some of the most intense I've ever seen. Even though Fist Flush is fairly new, there is plenty to keep you busy. Heck, I could watch Bonnie and Britney's movie on a continuous loop and be completely satisfied. But with weekly updates, that's not even necessary. You'll have a new fisting movie to shock your socks off every week.
Click here to visit Fist Flush