A promising site indeed. Connoisseurs will delight in the high-end models available here; the more frugral will delight in all the low-priced, hidden gems.
Complete
review published on 12.01.2016
[v]

Intro promises

(4.5)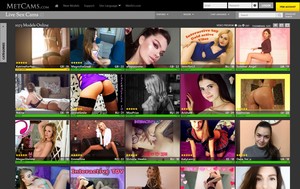 Click here to visit site
If you're a fan of the ladies of
Met Art
, why not checkout some of them live in action on
Met Cams
? The tour promises "hot live adult cam-on-cam action." And, in addition to all the familiar faces from their sister site, they've added a whole slew of original, exclusive models, too.
[v]

Content Amount

(4.5)
Last updated on February 18, 2017.
Web Cams:
6006 models, online at a time: 100
Options:
Sound, Text Chat, Model Bio
[v]
Prices
Last updated on February 18, 2017.
$4.99 per minute (private chat)
$8.89 per minute (exclusive chat)
$1.49 per minute (private chat)
$2.99 per minute (exclusive chat)
[v]
Sample Galleries
[v]

Impression

(4.5)
With limited funds and a world of hotties to choose from, I decided my best course of action would be a heavy amount of window shopping. And as luck would have it, perusing pussy couldn't have been easier. Not unlike its sister site,
Met Art
,
Met Cams
sports a slick and clean, including a whole host of browse-tools — but that doesn't mean you'll have to jump a bunch of navigational hurdles to get to the prize. In vein of more traditional cam sites, they've got all the active models displayed on their home page. In fact, hovering your mouse over a model not only enlarges it, but also animates it, giving the member a sneak peak of a genuine live show in progress. Not bad. But even better is giving old girl a click, which takes you to a page with a much more practical resolution and, better still, interaction with the model. The only problem is, which model?
If my calculations are correct, there's just over 6,000 girls to choose from. Not at any given time, of course. But even when compared to some of the bigger cam sites out there, they usually have impressive active listings: As I write this there's 91 lovely ladies online, ready to fulfill my twisted desires — and keep in mind, this is the wee hours of a Tuesday. Who are these women? Why are they up so late? And, more importantly, why are they so eager to chat candidly with me about what "gets them wet" or, better yet, show me their perky breasts without so much as an offer of cash from me? Come to think of it, who cares? But if you you have a specific type of lady in mind, they have drop-down menus that let you categorize the list by region and language(this one's really helpful), show features(video-only, picture quality, and a whole host of show features), and a 5-star member rating system. And if you want to get ultra-specific in your quest, just hop on over to the "Advanced Search" feature, which has a list of over 60 physical attributes to help you refine your search.
Once inside the chat-room, you'll notice something amiss right away — there's no catcalls, no random vulgarities or chants of "take off your bra." In fact, so far as I can tell, that little java chat window is essentially private. Every so often you'll hear a familiar bell-like sound that I assume signifies that model's receiving a message. Also, sometimes the screen will go black, save for a message in bold white text that says, "This model is currently performing live. Click here to enter the show." Entering the show usually costs around $2.99 a minute, though, so you really might want to take advantage of that advanced search engine we talked about earlier. They're currently using a currency called Gold, and one gold unit is equal to 1 US dollar. In addition to using your gold to enter into private, or, "Gold" shows, you can also straight tip the model in the public chat. Which, depending on how savvy you are, may or may not be a more economically sound option.

Though I did hold a bit back for tips, in the end I decided it best to opt for the live show. After hours of browsing photographs and courting would-be benificiary of my credits — even going so far as to have an on-again/off-again relationship(Or was it just haggling?) with one — I finally decided on an all-American little brunette who, according to her bio, is a "death Metal singer who loves titties and hard core fucking." Sweet!

As soon as the initial chat(the free one) loaded up, I was greeted with a neck-down view of a girl who obviously stays fit. Then a cute voice said, "I don't know why I'm typing. Holy shit! Dude, I gotta friggin' pee," she repeated, laughed, then added, "I'm gonna piss right here." She seemed to have thought better of it, though, because she was soon out of her chair — and view of the camera, too. The second she walked back into frame, I hit a button that promised to give me exclusive, 1-on-1 contact with the model.

The screen morphed, expanded, my options doubled. It worked.

"What do you want?" She asked.

Well, at $2.99 a minute, I didn't intend to waste any time, so I quickly typed up my request to see her ass hole.

"He wants to see Robert Plant," She said to someone off camera, chuckled, then proceeded to bend over while expertly maneuvering the cam, which was now behind her back, with her right hand while simultaneously spreading both cheeks with her left.

She's done this before.

I'll spare you the details of the rest of the show, but I do think it's worth noting that this model, as well as the other "chosen few," were extremely courteous and cooperative, even eager to "get to the point." Which is a rare thing in this business, indeed. Perhaps it was just luck of the draw. Usually it's been my experience that most cam models are experts at "killing time" by being slow to fulfill a request or, worse yet, trying to fill time with needless chit-chat. Here, however, they're often short and direct.
It should also be noted that once in private chat, that little embedded player has a few extra added options, the most interesting of which is a little telephone icon, which I can only assume is for voice chat. And for those daring souls, there's a cam-to-cam option.

To be honest, there's not a whole lot to complain about here. A minor point of annoyance did come in the form of the picture and video(or lack thereof) tabs that accompany each model's private page. More often than not, there's very few pictures and nothing at all in way of video. As it turns out, there's an option to "Get full access to every model's recorded videos for $14.99." That seems a little on the steep side. And since there's really nothing in way of bonus content here, you'd think they might consider giving members who've purchased credits in the past at least a little taste of all those videos.

I also noticed quite a few models, at least while I was on, who were explicit about not being interested in anything but paid shows. So, while the open chats can be interesting, it's only because someone else is forking over some cash. Still, the cheaper option of $1.49 a minute isn't nearly as hard on the wallet, and the models still seemed quite responsive. Just don't go expecting a full frontal nudity and D.P. for nothing. And perhaps that's just a trade off for having such top-notch models.

But if you really want the ones members have deemed the best, you're going to have to pay even more. With some girls Private Chat is $4.99 a minute, and that Exclusive, one-on-one chat I was enjoying earlier would go for $8.89 a minute with a certain breathtakingly beautiful Asian schoolgirl. However, there's some real hidden gems out there, if you care to look, who have for whatever reason — whether they be new, not online a lot, or just somehow were lost in the mix — are currently extremely undervalued.

And speaking of credits, I really do wish they'd add some way of keeping track of your credits in-show. They can diminish rather quickly, and in the heat of the moment, the clock is an easy thing to forget.

But just so we don't end on a downer, it's worth noting that there is great potential for member and model interaction here. You even get your own little account control panel, complete with a "favorites" list for models, as well as your own private mailbox. Couple that with the phone and cam-to-cam chat, and you've got a fantasy you can take pretty damn far.

[v]

Conclusion

(4.5)
Met Cams has over 6,000 models, hundreds of which can be found online at any given time. Most of the active models are quite beautiful, not unlike the stellar selection at their sister site. However, prices can be a little on the steep side for the premium babes, so this one may be more aimed toward the connoisseur. From personal experience, though, true treasures can be found at a reasonable price, if you're willing to do a little digging. But again — if you're after the truly elite, you've come to the right place.
Click here to visit Met Cams