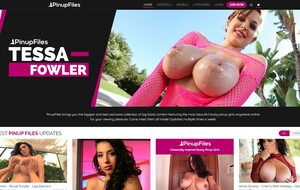 Click here to visit site
In the era of the pinup, natural curves were all the rage and soldiers would fall asleep to dog-eared photos of Rita Hayworth and Betty Grable. These days,
Pinup Files
has moved the pinups online and the curves are oversized and often enhanced. The photos and videos of girls squeezing, soaping, shaking and massaging their milk jugs will send you into sensory overload with all of the mammaries on display. Big tit fans who can make their eyes travel above the neck might recognize models like
Tessa Fowler
, Veronika Zemanova, and Sophia Vergara look-alike Desiree Elyda Villalobos. In addition to the photos and videos, some of the girls also do live shows and they're completely free for members.
'Supersize me!' is the motto of the modern pinup girl whose boobs can never be too big or too bouncy. Inside the site, the home page is a sea of boobs. Between all the breasts, you'll find the most recent updates as well as some of the top-rated scenes of all time and teasers for upcoming scenes. I found the navigation to be a no-brainer. Just click the nearest pair of boobs you see and you'll probably end up somewhere good.
I have to lodge one complaint about the way this site handles their payment process. Instead of just telling me how much each option is (monthly, 6 month, etc), they break it down to how much you'll pay per day for a one-month membership or how much you'll pay per month for a multi-month pass. Is it too much to ask to get just a straight-forward number that tells me the total price? I know a lot of sites do this, but making me do math when all the blood is rushing to the lower half of my body is just rude.
Pinup Files
is more sexy and playful than explicit and raunchy. There is no hardcore boy/girl sex or even girl/girl lesbian sex. But the videos here give you a view of busty girls that you've always wanted. Have you ever had the chance to watch a busty girlfriend soap her tits in the shower? Now you can. How about watching
Tessa Fowler
take off her string bikini and shake her big natural jugs by the pool? Crack open a beer and enjoy the view.
Most of the scenes are solo, but I loved the playful nature of the duo scenes. In one video, Maggie Green and Erica Campbell get together for a sexy lapdance scene that goes much further than any strip club dance I've ever had. Erica rubs her bare tits all over Maggie and the girls proceed to squeeze and play with each other while the camera shows you perfect shots of their boobs. There aren't a lot of these two girl scenes, but I would love to see more...maybe with some busty girls kissing thrown in for good measure.
The site updates at least once a week (sometimes twice) and they've been at this a long time, so there are more than 771 videos and 855 photo galleries here. These days, it's a given that videos come in HD and the quality of the most recent videos is excellent. If you dig back deeper into the archives, you'll see videos that look more dated and occasionally grainy. The videos will stream via the in-browser Flash player or you can choose between MOV, MP4, and WMV files and save them to your hard drive.
The high-resolution images are very well-done, glamour-style shots but I found the individual images a bit on the small side. The largest images are no more than 950 pixels on the long side. You can post comments and rate each gallery, so go ahead and show your appreciation for your favorite ones.

Models are the heart and soul of this site and while you have girls with a variety of looks, you won't find a dog in the bunch. Remember Sophia Vergara look-alike Desiree Elyda Villalobos? She's 32G and all-natural. Her photo shoot shows off her natural curves encased in an emerald green corset that makes her cleavage look so deep you need a snorkel to dive to the bottom. Her photos and behind-the-scenes video shoot are completely softcore (not even a nipple!), but she's so extraordinarily beautiful that you won't mind one bit. On the other end of the spectrum, there's the very blonde and very much enhanced Marie-Claude Bourbonnais. She's incredibly slender with a punky, platinum blonde pixie cut, and the biggest thing on her tiny body are her 34FF boobs.

If you're a strict naturalist when it comes to boobs, Pinup Files probably isn't the place for you. You can't swing a cat inside this site without hitting a pair of fake boobs. That said, I would guess that it's pretty evenly weighted between homegrown tits and those who got pumped up with a little assistance.

One of the newer features are the free webcam chats. If you want to schedule your life around the live shows (and why wouldn't you?) you can because there's a calendar that lets you know exactly when the next cam show will be. They're usually about once a week although sometimes you get two or three and occur between the hours of 6-10:30PM PST. That isn't too convenient for our friends in Europe and Asia, so it would be great if they added more live shows throughout the day or recorded them so that you can watch the ones you've missed.
Pinup Files has been providing your busty fantasy fodder since 2003, so with 10 years of expertise, they know what makes big tit fans tick. The site has improved over the years, first with HD video and now with weekly live cam shows. It just keeps getting better! I highly recommend you dive face-first into this site and donít come up until youíve had your fill of boobs.
Click here to visit Pinup Files