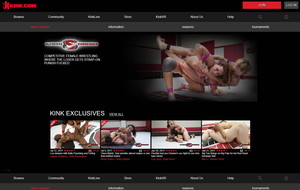 Click here to visit site
Do you secretly enjoy watching cat fights? Well, Ultimate Surrender brings it to a whole new level, mixing traditional wrestling techniques with not so traditional — actually, quite sexual — moves that, from the looks of the tour, are quite ineffective indeed. What's more, they guarantee members over 450 shoots, translating to roughly 325 hours of footage. And for all you photography buffs, galleries just shy of 100,000 pictures.
On a sidenote for all you wrestling aficionados out there: try not to run away over technical errors. It's not all that cringe-worthy. The girls put up a good effort, and they even do some legit moves every once in a while. Hell, I swear I saw a few wrist locks and single leg sweeps. Either way, I recommend you soldier on, and suspend disbelief. Trust me — it's worth it.
But no matter what you opinions on any particular girl's wrestling prowess, it cannot be denied the new 720p HD scenes look spectacular, and the multi-camera shooting style combined with that excellent lighting really give these scenes a cinematic quality. Of course, if your connection speed or video card won't allow such clarity, you'll be happy to know there's lower quality SD filess, and a mobile version, too.
Sadly, though, video quality dips quite a bit once you go back in the archive, and, once you get toward the earliest installments, circa 2004, the footage may be deemed unwatchable to some.
There's also one other minor issue. I feel with a site this size, and one that's obviously expanding at a pretty rapid rate, it would be wise to invest a few more browse-tools. Or, at the very least, a more fine-tuned search function. This isn't exactly a small niche site anymore.
But on a more positive note, I think it's worth pointing out what a strong sense of community this site has. I first noticed it browsing the videos; hardly a scene would go by that wasn't flooded with comments, good and bad, but mostly good, about the scenes in question. Then I noticed the forum, which also seems to be buzzing with activity and, perhaps more importantly, feedback from the staff.
They've also supplied us with some sweet galleries -- albeit containing the occasional blurry image — of these ladies in action. They sport a respectable res but, more impressively, are 100% watermark free! Not bad.
Oh, and it also might please you to know that membership includes access to the Kink Network, which houses 33 undeniably debauched sites sites, including 3 new arrivals:
Sadistic Rope
,
Foot Worship
, and
Hardcore Gangbang
. In case you noticed the trend, be confident that it runs through all of the sites. This is a depraved, BDSM dominated listof sites. Which, I think, makes it an ideal lot for a fella who signs up for a site like thisbr />
Things sure have come a long way since bikini-clad broads mud-wrestling in skanky dives. Ultimate Surrender delivers a more professional brand of girl-on-girl "combat," where fingering mid-match is legal, and the loser has to eat the winner's pussy. Between the awesome premise, stellar execution, and daily updated HD video, it's pretty much impossible not to recommend this site. Especially all to all you wrestling fans out there.
Click here to visit Ultimate Surrender