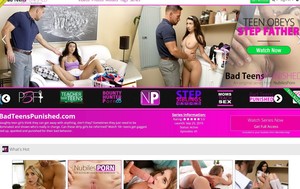 Click here to visit site
With so many indolent teens out there in this day and age, is it any wonder that some of us have fantasies of punishing them? Well, Bad Teens Punished has heard our call, and their tour boasts scenes showing "the naughtiest girls around acting out and getting punished." The teaser imagery goes a long way in backing this up, too, giving us a glimpse of a site where girls are spanked, berated, and, as they put it, "dominated by cock until it explodes." And since it's a Nubiles site, you can count on plenty of bonuses, too.
Aside from all that sexy incest and corporal punishment, one great thing about these scenes is that they are so well shot. Good production values went into these episodes, and it shows in the finished product where we are treated to multiple camera angles, good lighting, and seemless editing. What's more, since they usually run around 20 minutes or longer, they have time to give us a steady build up in intensity, making the climax all the more satisfying.
Each episode can be downloaded or streamed in 5 different resolutions, and they even threw in an extra Windows Media file in the downloads section for good measure. They are all available in 1080p and 720p HD, as well as some great looking SD options that are more bandwidth-friendly. On that note, download speeds were fast, averaging out at 5 megs-per-second.
Each scene is also accompanied by an attached photo gallery, with full ZIP download options ranging from 1,200 x 800 pixels all the way upt o a massive 5,760 x 3,840 pixels. They throw in a whole lot of 'em, too. Most sets have somewhere in the neighborhood of 140-160, to be precise, and none of that redundant or ill-framed nonsense you might see in other sites.
So, you've heard the good. How bout the bad? Well, if you came here looking for BDSM style punishment, you may leave disappointed. More often than not, these girls are punished by daddy's dick rather than his belt. As I mentioned above, you won't see much more than a light spanking here. So, if you were after something truly brutal, look elsewhere.
I also suppose I could see some of you being disappointed that most of these girls fall into the 20-23 age bracket. Admittedly, I did notice one or two girls that looked a little old to be playing teens, but by and large they did a fine job of populating their model index with gals who have that fresh faced, innocent vibe like Megan Sage, Naomi Woods, and Lucy Doll.
Honestly, the only real cause for concern I see here is that this site has very little content to show for its two years of business. It first launched in September of 2015, publishing one video that month and another the next. And then there were no updates whatsoever until the beginning of the new year. At first I thought perhaps they just took the holidays off. Not ideal, but at least somewhat excusable, right? That theory doesn't really hold water, however, once you realize that after two more updates, they took two more months off.
On the bright side, after that it's been very smooth sailing, with the site delivering at least one or two new episdoes each month. Not exactly a breakneck pace, but at least it now seems to be a reliable one.
Still, the current archive is hardly enough to justify their current price-tag alone. Fortunately, your membership affords you access to the rest of
Nubiles Porn
, which has plenty of other teen action derived from such sites as
StepSiblings Caught
and
Teachers Fuck Teens
.